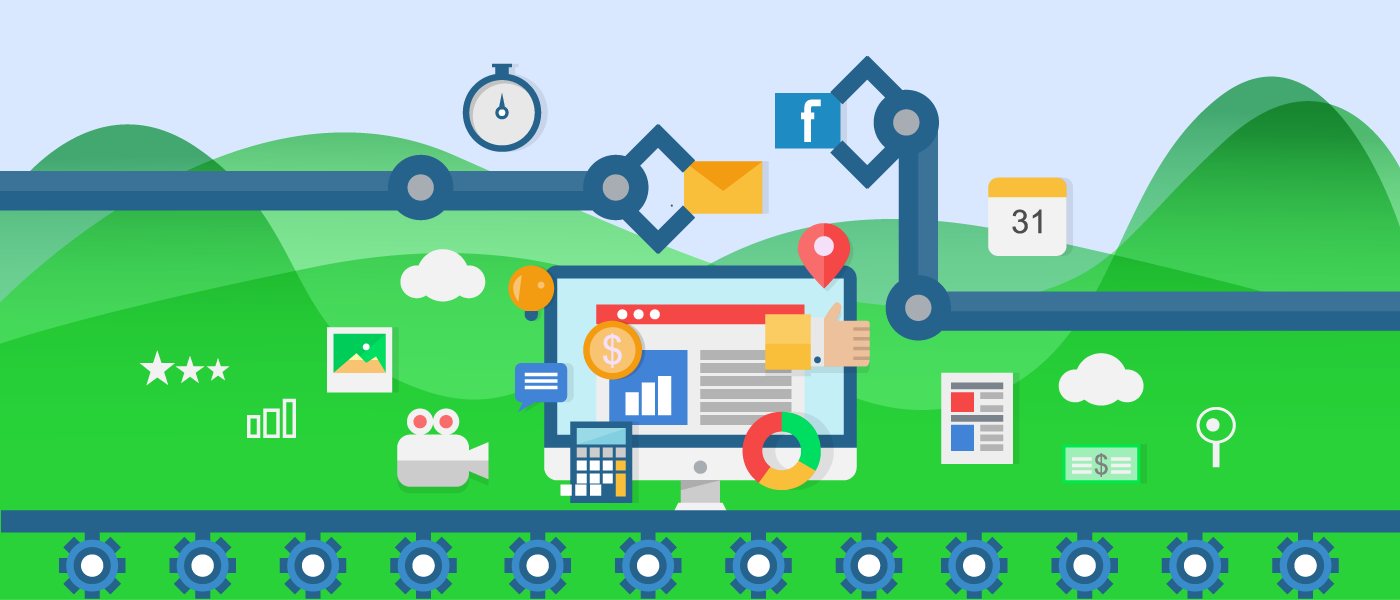 Marketing automation has the potential to boost your profits and fine-tune your marketing strategies–All while saving you time.
Understanding and realizing the benefits of a marketing automation campaign, however, are often two different things. How can you take the tools that allow you to automate important marketing tasks and use them to work smarter, not harder, for your business?
We have created this guide to help you transform your company's marketing efforts into profitable and effective campaigns by using the right automation tools in the right way.
When is the right time to invest in marketing automation?
Not every company needs to invest in marketing automation right away, but automation tools and strategies can benefit many businesses thanks to their scalability and responsiveness.
The key to knowing when to choose investment in marketing automation is to understand when your ROI can benefit from these tools. If your business is in a position to capture and convert more leads through automation, then the investment required to fine-tune the automation to your particular business needs can be a smart, and profitable, choice.
Choose automation if your business fulfills any of the following criteria:
Abundant and Diverse Leads
Marketing automation works best when a company is already enjoying an influx of leads from an array of marketing strategies.
In these situations, businesses often need a way to
Track the origin of their leads,
Manage lead follow-up effectively, and
Accomplish repetitive tasks efficiently.
In these cases, better lead management through marketing automation helps by taking over certain tasks to get more done in less time.
A Struggling Sales Team
If your sales team is beginning to struggle with the lead nurturing process, or if you notice leads falling through the cracks, it may be time for marketing automation.
The right automation tools capture and nurture leads through lead assignment, drip campaigns, or automated workflows.
The result is that your sales team focuses on the highest-value leads without losing track of the other leads who come into the sales funnel. And, with marketing automation assisting with lead nurturing, your sales team will find it easier to bring leads all the way to conversion.
Multi-Channel Marketing Approach
Multiple marketing channels add complexity to your campaigns. You may need marketing automation to help you manage, track, and accomplish successful marketing throughout each of these channels.
Analytics Gaps
Marketing automation assists businesses who need to know the:
Sources (and channels) of leads
Relative success of specific marketing campaigns
Messages that best speak to the target audiences, and more.
Marketing automation utilizes tools (such as dynamic number insertion) to accomplish these tasks and provide real-time data that guides ROI-boosting efforts.
Consumer-Focused Marketing Needs
Marketing automation is particularly useful for businesses that want to provide an interactive experience for consumers. Automated marketing that personalizes communications and engages with leads saves time without sacrificing the sense consumers have that your business cares about THEM.
Steps to Creating a Marketing Automation Campaign
If you feel that your business is ready to benefit from automated marketing, here are 5 concrete steps you can take to create campaigns that work.
1. Prioritize based on highest needs
You do not need to build automation into every part of your revenue cycle at once. Instead, examine your process to see where you need to improve the most: Lead generation? Lead nurturing? Sales and marketing alignment?
Once you identify your areas of greatest need, you then begin crafting automated campaigns that meet those needs first.
You can always expand your automation over time to encompass more of your marketing and sales work, but targeting your highest-need areas first allows you to see the greatest improvements in performance and ROI right away.
2. Define your goals
2.1 Be specific when defining your marketing automation goals.
In order to make the most of your investment in marketing automation software, you need to create specific, actionable goals for your marketing automation campaigns.
For example, say you identified lead nurturing as your area of greatest need. What do you hope to achieve by adding automation to your lead nurturing process? Re-engaging cold leads? Capturing more leads through retargeting campaigns? Educating leads on your products and services?
Once you know what you want to accomplish, you use marketing automation to implement specific steps to reach those goals.
2.2 Set up marketing automation workflows.
Once you have specific goals in mind, you create automated workflows that help you integrate individual marketing activities with those goals.
These workflows use if-then logic to turn individual tasks into a part of your overall marketing plan.
For example, say you want to re-engage cold leads to boost your lead nurturing process. You create a workflow that anticipates every potential response from these cold leads:
If a lead has not responded in 30 days, then they receive an SMS message.
If a lead does not respond to the SMS message within 48 hours, then they receive an email with a link to additional information about the products they were interested in.
If a lead does respond to the email, then they receive a personal phone call from a member of the sales team.
If the lead does not respond to the email within 1 week, then they receive a follow up SMS.
As you can see, these workflows use specific actions (e.g. sending an email with a link) to accomplish your specific goals (To re-engage cold leads and improve the lead nurturing process).
In addition, the workflow lets you see the big picture, so you see how specific actions affect costs, revenue, and ultimately, ROI. These are insights that include but go beyond simple metrics like how many people visited your website.
2.3 Adjust your goals as needed.
One of the benefits of marketing automation is the ability to use small pieces of information collected at each touchpoint to adjust your goals for each workflow.
For example, when you get more precise and give them a deadline, your goals will look like this:
| | | |
| --- | --- | --- |
| Objective | Strategy | Goal |
| Bring in more sales-qualified leads | Expanding subscription forms and content gating helps you acquire more data. But the workflow, on the other hand, will show you how to balance the amount and quality of leads by increasing or decreasing the amount of required form fields. | Bring in 500 more sales-qualified leads in 2021 |
| Increase sales | You experiment with different email subject lines, landing page layouts, and copy to see how they affect conversion rates. However, you'll eventually want to be able to drive visitors to your site and track sales. | Increase sales by 10% on a monthly basis |
| Improve customer retention | Keep track of engagement to discover if the content you're providing is of interest to your target audience. Create long-term relationships with your customers by interacting with them. | Increase customer retention by 15% next year |
3. Earn quick marketing wins
Developing a sophisticated marketing automation campaign that addresses every stage of the sales funnel will not happen right away. You need time to learn about and integrate all of the features of your marketing automation software.
Fortunately, you begin to see improvements in your marketing and sales efforts right away by using automation to target some basic tasks.  These tasks deliver quick wins for your business while you build up a more extensive marketing automation strategy.
Automate SMS/email/phone call sequences 
This is a great way to introduce the value or added-value of your latest product or service offering.
Set up analytics for new targeted landing pages.
Conduct automated A/B testing to see which designs and messages work best.
Set up trigger emails based on specific consumer actions. 
E.g. Abandoned carts, online form submissions, appointment reminders, and more.
Automate lead assignment and task reminders.
Ensure that your sales and marketing teams connect with every lead by assigning each lead to specific team members and by implementing reminders for tasks such as meetings and phone calls.
Set up a welcome email sequence for new subscribers.
Use these emails to connect new subscribers with useful resources and earn ongoing engagement.
In addition, you create resources to target consumers at every stage of the sales funnel.
Hold a webinar discussing how to handle a common problem.
Develop a case study to showcase how your business overcame a problem for a consumer.
Write a blog post about a new product or service you are offering.
These resources become tools that you integrate into your automated marketing to quickly improve the engagement and conversions you earn from your campaigns.
4. Automate existing workflows
Chances are your marketing and sales teams already utilize workflows to accomplish tasks like nurturing leads, following up after appointments, reaching out to cold leads, onboarding new customers, and more.
You easily integrate marketing automation into your business by automating these workflows.
Start by creating a list of the routine marketing activities that your business already engages in. Then, turn these activities into automated activities that save you time and help your teams focus on exercising creativity and taking care of more urgent tasks.
Ideas could include the following:
Sending reminder emails to consumers who have appointments
Sending welcome emails to new subscribers or customers
Engaging cold leads
Following up with leads who request information on particular topics or products
5. Segment your lead database
Your lead database is a valuable source of information that you use to create automated marketing campaigns.
One of the first steps to take when creating automated marketing campaigns is to segment this list based on the demographics that work for your business. Suggestions include any of the following:
Lead source
Profile information
Place in the sales funnel
Latest activity
Areas of interest
And more
Once you segment your lead database you use these segments in your marketing campaigns.
For example, you may choose to create an automated workflow that targets leads who have abandoned carts, visited a particular landing page, live in a particular geographic area, or have failed to respond to your organization within a certain period of time.
With segmented databases, automation becomes simpler and faster to implement.
💡 Takeaways
Marketing automation can be quite complex and advanced, but you do not have to start there. Instead, begin with simple workflows that address tasks your teams already need to accomplish.
For example, use automated workflows for the following simple but repetitive tasks:
Following up on form submissions with an email
Sending content on a related topic to someone who visited a landing page
Reminding leads about scheduled appointments
Welcoming new customers to your organization
Simple automated workflows are fast and easy to implement, quickly free up time for your sales and marketing teams, and accomplish your goal of getting quick wins from your automation.
Creating a well-performing marketing automation campaign does not have to be time-consuming or confusing. Prioritize your needs. Define your goals. Focus on quick marketing wins. Segment your lead database, and develop simple, automated workflows.
If you need a marketing automation software that helps, consider using GoCRM. We help you improve your ROI and capture more leads without adding tasks to your teams' already busy schedules. Contact us today for a free demo and to learn more.