Sales Pipeline
Sales Pipeline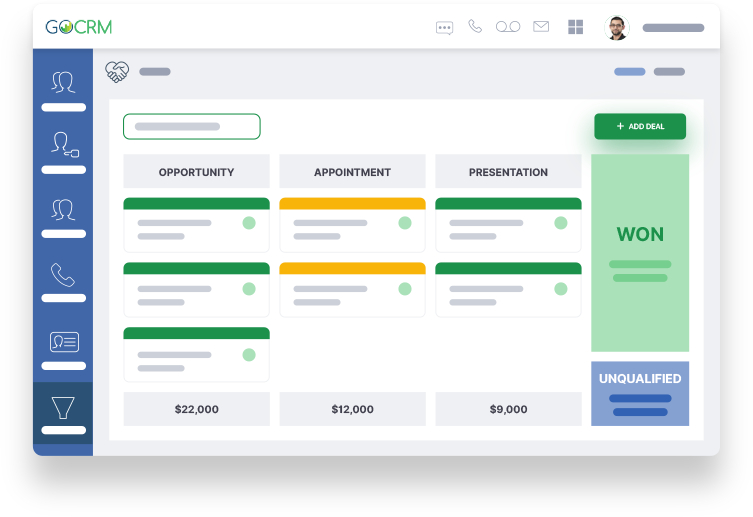 Sales Pipeline
Add discipline in your deal cycle by controlling it with deal management software. With this visual indicator, stay conversant with all the activities of the deals in the different stages of the sales pipeline.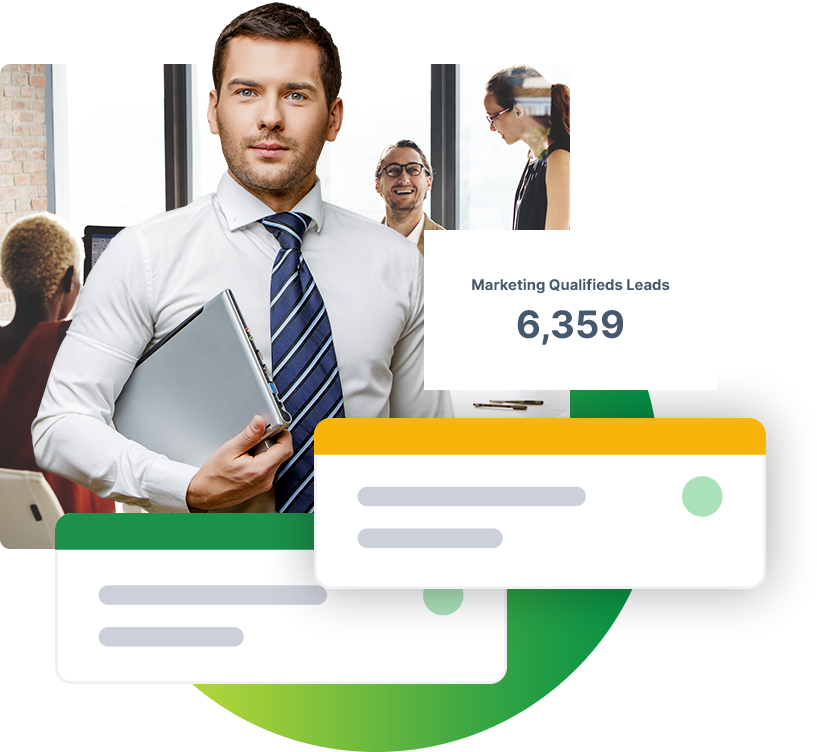 Gain Control of Your
Marketing
If you can measure it, you can manage it. Precise, accurate tracking of every lead's origin and activity lets you break down marketing performance by campaign. Find out what is working and what isn't. Then, use that data to focus on the marketing that gets you results, and stop wasting money on campaigns that underperform. Want to earn more leads, more conversions, and greater ROI without spending more money? Use our multi-channel attribution tools to gain the marketing transparency and control you need.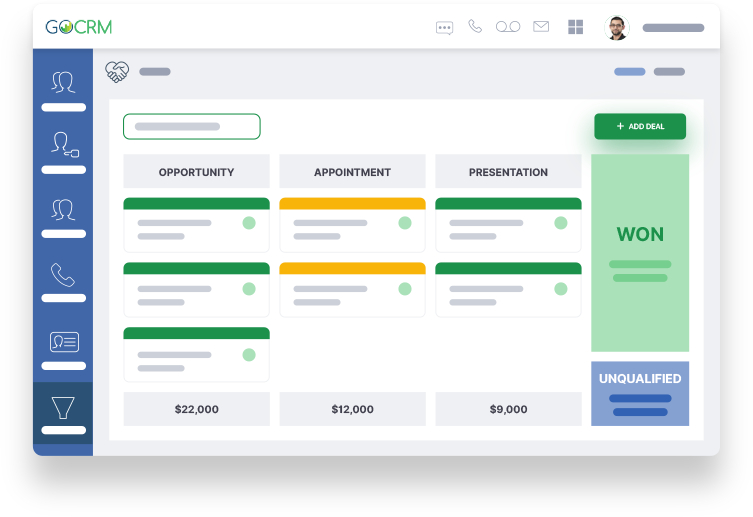 Visual Sales Pipeline
Easily link phone calls and texts to specific ads and marketing campaigns. GoCRM helps you detect leads by assigning different phone numbers to each ad. For example, a radio ad would use one phone number, and a billboard ad would use another. When a lead uses one of these numbers to contact you, you know which ad drove them to engage with your business.
Use this information to gain in-depth data on every person who calls your business, understand which campaigns are working, and gain insight into how to adjust your marketing strategies for improved capturing and conversion of leads. Marketing transparency for every lead and campaign is now at your fingertips.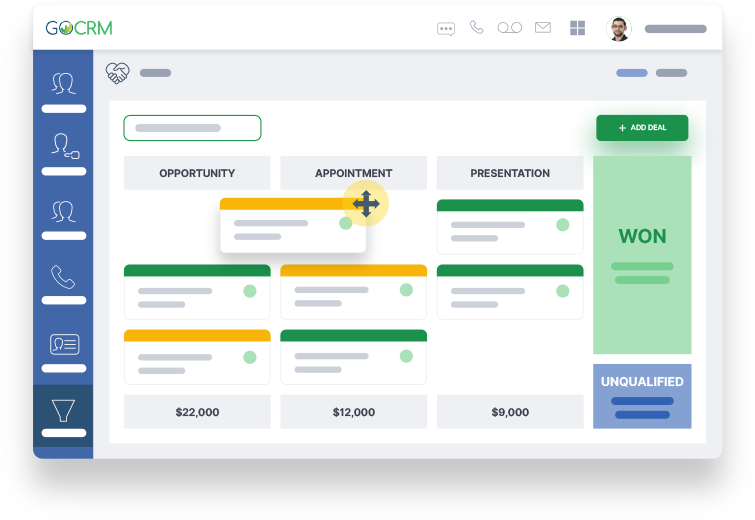 Drag & Drop Updates
Follow every form submission and where the lead originated from with our website form tracking. GoCRM generates a snippet of text that embeds on your website and monitors every form. You can view all the data associated with the form, including:
Page URL, Referrer URL, Landing Page URL, UTM source (The platform the traffic comes from, like Facebook), UTM medium (The kind of traffic, like paid or organic), and UTM campaign (The campaign that resulted in the traffic). Together, this data gives you a clear picture of how the lead behaved on your site so you can accurately evaluate campaign and channel effectiveness. GoCRM's web tracking can also be used for designated URLs to gauge how certain campaigns, products, or special offers compare to each other.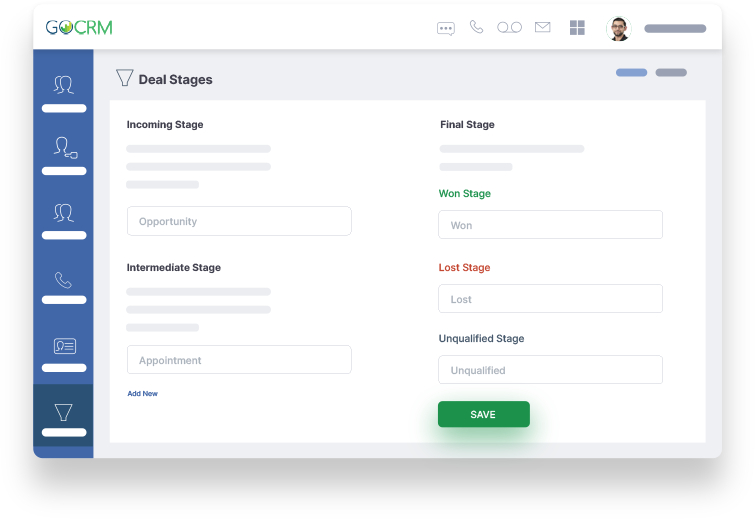 Custom Stages
Do more than assign individual numbers to individual campaigns Assign individual numbers to each website session so you can track all forms, phone calls, and the lead's entire session data. With the same technology that tracks phone calls and text messages, GoCRM allows you to see where each website visitor originates and track their entire website journey, all in our centralized database.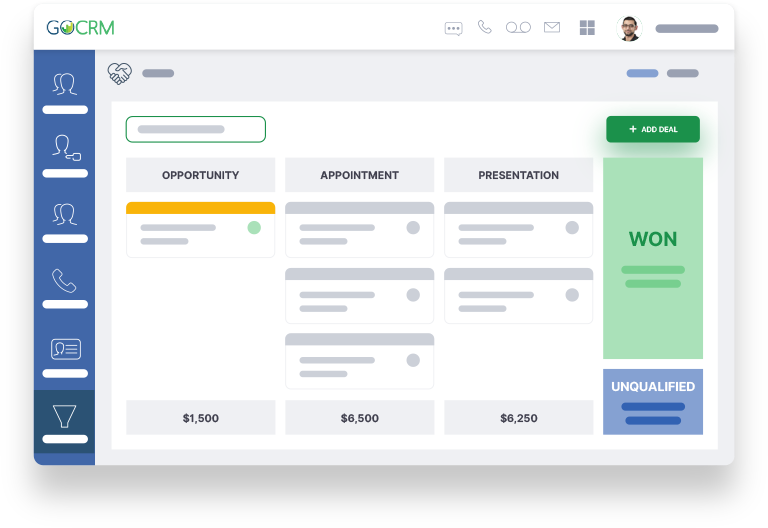 Identify Stalled Deals
Customize the rules that govern which sources are attributed to which campaigns and channels. For example, set the URLs and phone numbers that are associated with each campaign so you can accurately assign each lead to the correct campaign and channel. Automated, accurate rules allow you to measure the performance of each campaign and see the lead journey from end to end.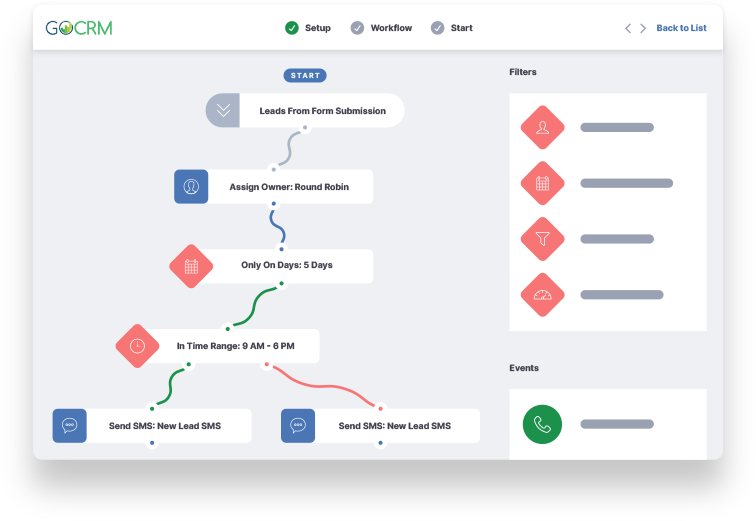 Automate Actions on Stage
GoCRM uses Zapier integration to capture all information available on a lead to pre-fill forms with accurate data and capture all third-party forms. Integrating sources from a third-party cuts down on lost leads and data and provides a comprehensive picture of your marketing campaigns' performance and lead journeys.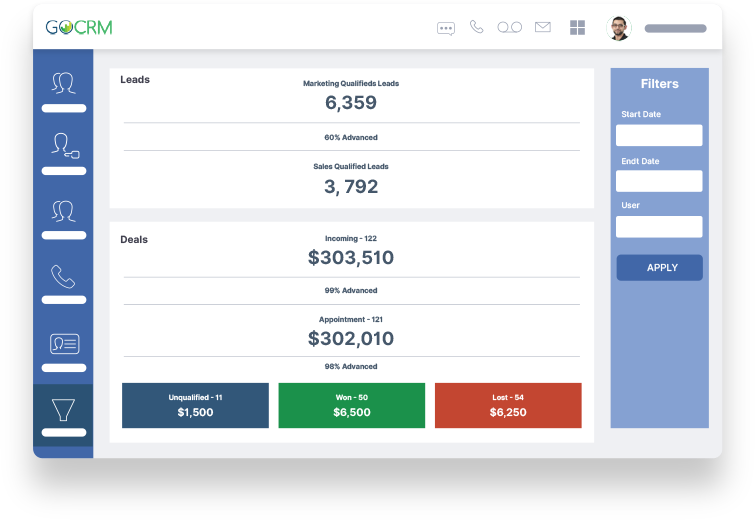 Track Your Sales Pipeline
Once you have all your lead information in your database, you can close the gap between a lead coming in and you reaching out with automated engagement workflows. Set up one to engage a lead after a form submission, another one to re-engage cold leads, and a third to onboard new customers. By generating automatic messages and workflows, you can stay in touch with leads and keep any lead from falling through the crack. From accurately attributing your leads to the right campaigns and channels, tracking campaign and channel effectiveness, and following every lead from inquiry to conversion, you can cut down on wasted marketing dollars and maximize your ROI across your entire marketing campaign.
Try GoCRM Free For 30 Days
No pressure, no obligation. See GoCRM in action in your business.