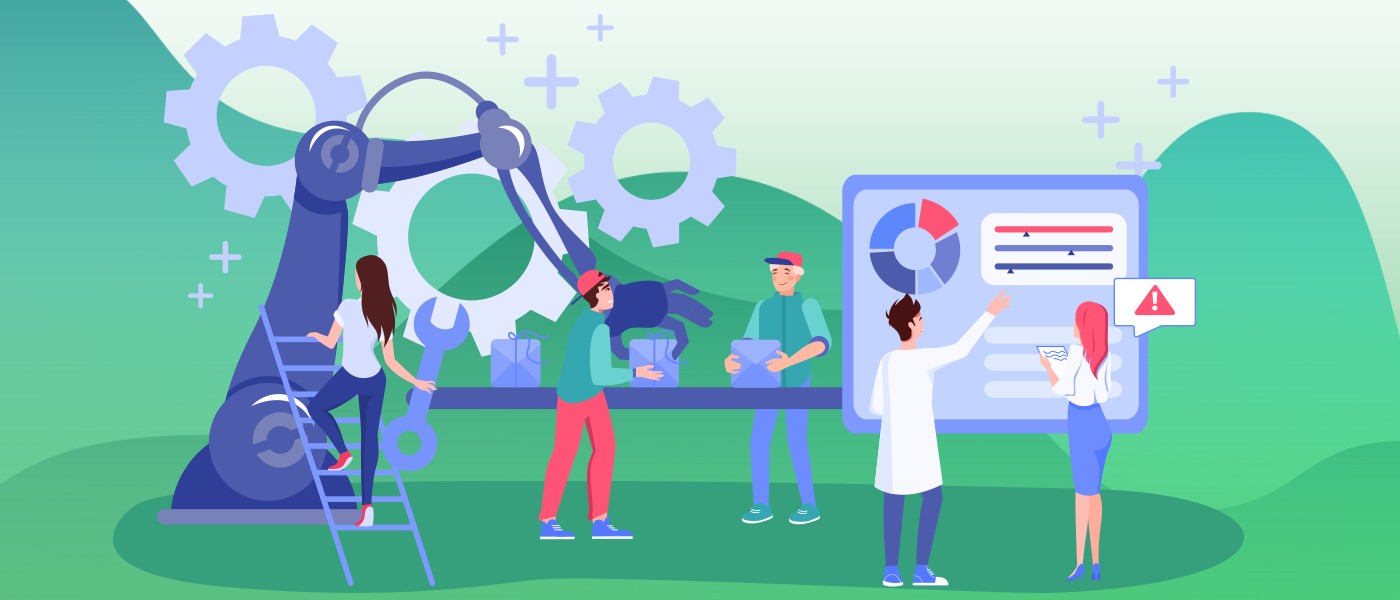 You may have heard about the power of marketing automation, but still wonder: What exactly does marketing automation do? And how can it save you time and money?
Automating many of your repetitive marketing tasks is one of the easiest and most effective ways you have of improving your productivity. Here is a look at what marketing automation is and what it can do for you.
What is Marketing Automation?
Marketing automation uses software to automate many of the repetitive tasks your sales and marketing teams currently complete manually.
From drafting emails to sending appointment reminders, these tasks eat up time that your teams could be spending nurturing high-value leads or pursuing new clients.
The possibilities of marketing automation are almost endless. With a strong platform like GoCRM, you can take automation beyond basic tasks like scheduling appointments and make automation part of the process of capturing and nurturing leads.
What Marketing Tasks Can Be Automated?
Marketing automation can streamline almost every stage of the sales funnel, from capturing leads' attention to helping nurture them toward conversion.
Here are some of the biggest tasks you can automate with the set of tools provided by a robust platform such as GoCRM.
Emails
Chances are, your sales and marketing teams write many emails every day that the GoCRM system could deliver on your behalf.
Simply create the email template you wish to send, tell the system what parameters to use when choosing who should receive the email, and activate. GoCRM will automatically send the email for you, from the email account of the correct team member.
Use automated emails for tasks such as the following:
Confirmation emails (e.g. Appointments, form submissions, etc.)
Marketing emails (e.g. Alerts, resources, and promotions to your email list)
Reminder emails (e.g. Upcoming appointments, account reviews)
Delivery emails (e.g. Send out paperwork, onboard new clients)
Request emails (e.g. Ask for a review)
Lead Engagement and Nurturing
Marketing automation can also streamline the process of engaging and nurturing leads through customized workflows.
In GoCRM, you build each workflow using your business' best practices and target audiences to reach and nurture potential customers.
Each workflow consists of a series of emails, SMS messages, and phone calls written by you and sent according to the timeline you set, from the personal account of the assigned team member.
All you do is build the workflow, write the emails and SMS messages once, and activate the workflow. GoCRM then works to engage and nurture leads until they respond to one of the messages.
At that point, your sales team can take over the process, providing a seamless transition to a personal connection that makes it easier for your team to close the deal.
Use automated workflows to accomplish tasks such as the following:
Engage cold leads.
Nurture leads earned through ads or form submissions.
Alert leads to new promotions, discounts, and information to get them interested in your business
Onboard new clients
Retarget previous website visitors
Engage previous customers
And more
Using automated workflows allows GoCRM to nurture leads until they move further down the sales funnel, giving your team the time they need to focus on the most promising and highest-value leads.
Lead Assignment and Qualification
Assigning leads and determining the value and intent of each lead can take hours of your sales and marketing team's valuable time, while receiving poor quality leads from your marketing team can create tension between your sales and marketing departments.
Automated lead qualification, such as that provided by GoCRM, can eliminate hours of labor and keep the pipeline full of high-value leads.
All you need to do is to set automated lead assignment. Set lead assignment by lead value, geographic area, position in the sales funnel, or simply use a round-robin style of assignment.
You can also set the parameters for qualifying a lead. For example, a lead that does not respond within 30 days may qualify as a cold lead, while a lead that fills out an online request form about a particular product may qualify for immediate follow up from a sales rep.
With GoCRM helping to assign, qualify and sort leads, your teams can focus on tending to the most important leads without taking time out of their day to evaluate every lead that comes through the pipeline.
Analytics Tracking
Your sales and marketing teams thrive off data that helps them segment audiences, target audiences, evaluate efficacy, optimize productivity and maximize ROI.
Deliver this information into their hands in less time with automated tracking from GoCRM. Our automated system can track and evaluate data in all of these ways:
Import data from hundreds of integrations
Record phone calls
Centralize information in the database
Track lead origin and journeys from any source, including phone calls
Evaluate the value generated by each marketing campaign
Implement dynamic number insertion and call tracking
And More
With real-time data available, your sales and marketing teams can more efficiently earn, engage, nurture, and convert leads.
What Are The Benefits Of Automated Marketing?
Marketing automation can take over many time-consuming tasks, and in doing so deliver an array of benefits to your sales and marketing teams. Here are a few of the biggest benefits you will enjoy with automated marketing from GoCRM:
Never miss another lead.
With busy teams and lots of leads, it can be easy to overlook a lead. With GoCRM, however, you never have to miss another lead because the system nurtures the lead for you while you focus on more important tasks.
For example, automated workflows can nurture cold leads, while automated lead assignment ensures that every lead is immediately assigned to a specific team member.
Maximize your ROI.
With every lead promptly captured and properly nurtured, you can expect to win more customers, and that is good for your bottom line.
In addition, automated analytics tracking can help you focus on marketing strategies that are most effective for your target audiences. That means you can spend less money and earn more results. No more money thrown away on marketing campaigns that just do not work.
Personalize the customer experience.
Leads are more likely to become customers if they feel as if your business is invested in them. Automated marketing can help by personalizing the experience for the customer.
For example, personal names at the beginning of emails and texts, a personal connection to a real team member, and communications personalized to their pain points and needs all make the lead feel as if your business understands and respects them.
Personal connections lead to real relationships, and those relationships translate not just into customers but loyal customers who are likely to come back again and again.
Work smarter, not harder.
Marketing automation earns you more results, and leads, without actually making you and your teams work harder.
Instead of spending time nurturing cold leads, for example, you can focus on customers who are willing to buy right now, while GoCRM connects with your cold leads for you. Instead of tracking down information on a lead's last communication with your business, you simply check the central database for all the relevant information.
With smart work, not harder work, you can take hours off your team's workweeks while boosting their productivity and your ROI. That makes marketing automation a clearly good choice for your sales and marketing departments.
If you are ready to see what marketing automation can do for your business, contact GoCRM. We would be happy to give you a free demo and start you on the path to more productive, efficient, and profitable marketing and sales.