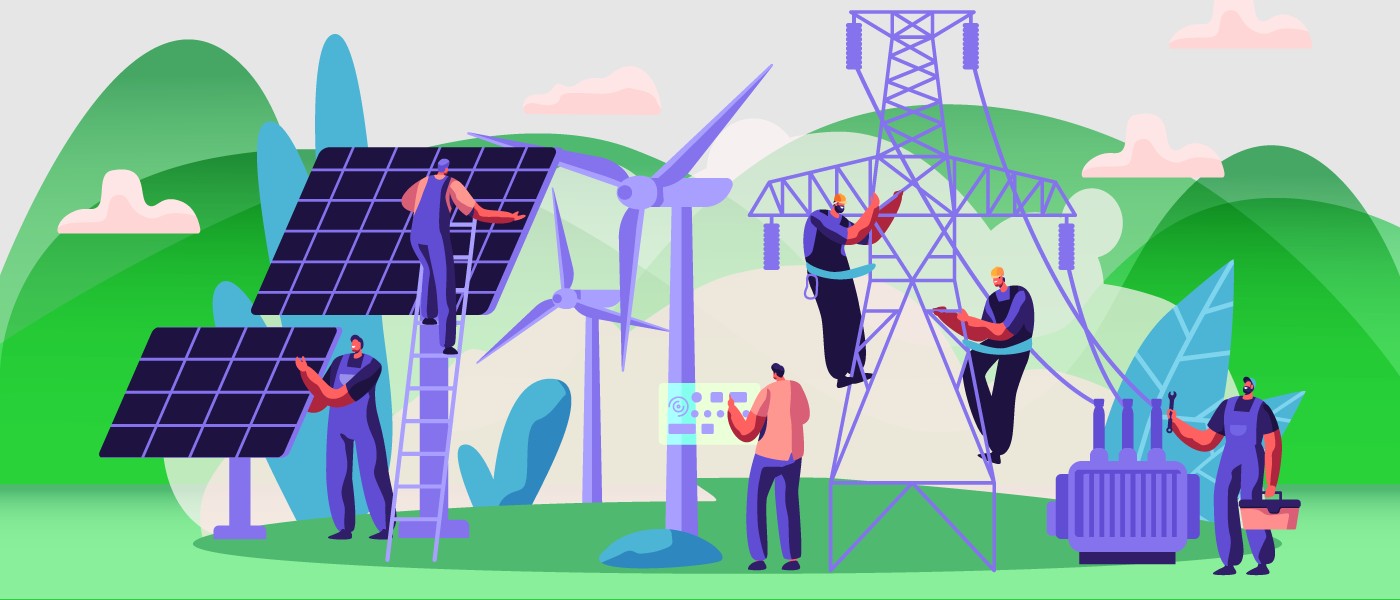 Solar energy is part of the exploding renewable energy field, which means that businesses dealing in solar power have a large, and eager, audience to tap into.
At the same time, renewable energy in general, and solar power in particular, are not always well-understood by consumers. Those looking to get into solar energy often need extensive education, along with the confidence that they are dealing with a business they can trust with their energy needs.
While you could look at some of the main players to find solar leads, such as EnergySage, and CleanEnergy Experts, you could also learn how to run your own full cycle solar marketing campaigns, from generation to tracking to automation, and start growing your solar energy business.
The time-intensive process of educating and building trust may be difficult to keep up with when you have many eager leads demanding your attention. That is where automation through a CRM such as GoCRM comes in.
By automating many of the tasks required to earn, engage, nurture, and convert leads, your CRM can support your sales and marketing processes and improve your productivity, without overwhelming your staff.
Here is a look at 7 ways how solar energy companies can automate marketing through GoCRM to build the success of your business.
Call Tracking
It can take several months between when a consumer signs a contract and when you get their solar power up and running. That does not include the time they spend reading about solar energy, vetting businesses, negotiating rates, and asking questions.
During that sometimes lengthy period of time, you should expect multiple phone calls as consumers ask questions, gather information, and decide if they can trust you with their solar project.
The information you collect in those phone calls doesn't have to be lost just because it doesn't exist digitally. GoCRM can use call tracking to help you stay on top of the information you gather via phone.
Through call tracking, GoCRM uses a cloud-based VOIP system to assign every phone call to the appropriate staff member on their personal device. Then, GoCRM can record the call and import vital information into its central database.
The result? You have real-time information at your fingertips so you can easily accomplish tasks such as the following:
Nurture leads with relevant follow ups
Set up consultations
Send relevant educational materials
View client questions and concerns
Answer questions with relevant and useful information
Solar Energy Lead Engagement Workflows
Use all the tools at your disposal, including email, text messaging, and phone calls, to capture, engage, and nurture leads with GoCRM's solar automated workflows.
These workflows consist of series of tasks, from emails to phone calls, that you can customize to your own target audiences and business best practices. Create the emails and text message templates once, set the parameters, and activate the workflow.
GoCRM will take care of the rest, sending the emails and text messages, and scheduling the phone calls based on the parameters and the schedule that you set. It will even personalize messages to the recipient by including their name.
The result is an efficient way to manage repetitive tasks without adding time to your schedule. Use automated workflows to complete the following:
Create an autoresponder for new leads
Automate lead qualification
Re-engage leads who stopped responding
Respond to website visitors who requested a consultation or asked a question
Provide industry information (e.g. Facts about solar affordability or information on the history of solar energy)
Follow up after a solar consultation
Check in with former clients to request reviews, obtain referrals, and determine satisfaction with your work
Lead Assignment
When you work without a CRM, you risk forgetting about leads or failing to follow up promptly. Avoid these problems with automated lead assignment from a marketing CRM for solar energy providers.
Assign leads based on what works for you: Proximity of a team member to a lead, value of the lead, team member seniority, and more. You can even choose to assign leads in a round robin style.
Once GoCRM assigns the lead, the automated system will schedule tasks, send notifications, and deliver messages from the personal accounts and phone numbers of the assigned team member.
Combine lead assignment with automated workflows to create a complete system that engages and nurtures leads while providing a direct line to a real person as soon as the lead is ready to respond. The result? More leads nurtured without more time spent on the part of your already hard working sales and marketing teams.
Email Marketing Campaigns
Email marketing is powerful, converting 3 times the number of leads as does social media and earning 17% more upon conversion than do other digital marketing strategies.
Capture the power of email marketing with automated solar email marketing from GoCRM. Our system will create email drip campaigns that are as simple or as complex as you wish. You can also create emails that trigger based upon consumer action.
For example, set up emails to send when somebody schedules a consultation, signs a solar contract, or submits a contact form on your website.
Creating these automated emails is simple. Create the template; schedule it in GoCRM; set any necessary parameters, and activate. GoCRM will send the emails on time, every time, and even include the recipient's name for a personal touch.
Use automated emails to accomplish tasks such as the following:
Communicate with your target audience regarding relevant news (e.g. Falling solar energy prices)
Encourage potential customers to schedule an appointment with your solar consultants
Alert leads to resources and information (e.g. New information on the positive environmental impact of solar power)
Re-engage cold leads with relevant information
Deliver resources, such as an ebook on the affordability of solar power over time, to nurture leads
Respond to website form submissions and other communications
Onboard new customers
Follow up with clients after solar panel installation
Personalized Marketing Communications
Connect with your leads and clients on a personal level through CRM-driven automation. GoCRM can add the recipient's name to sms messages and emails, while also sending communications from your assigned staff member's personal accounts and phone numbers.
When the recipient responds to the communications, they immediately reach the appropriate team member. That allows for a seamless transition to a personal conversation that makes it easy for your team members to nurture and convert leads who are ready to talk in person.
GoCRM also makes personalization easy by centralizing all information on your leads in a single database. This information allows anyone on your team to connect with your leads based on the most up-to-date information.
With simple, effective, and personalized communication, it is easier to convert leads into customers.
Data Entry
With many CRMs, accurate data is difficult to obtain because the CRM requires staff to enter the data manually. With GoCRM, data is entered automatically, thanks to the platform's ability to integrate with hundreds of platforms and import data from them into the database.
No more repetitive communications, missed tasks, or ineffective marketing strategies. Your team has all the information they need to expertly communicate with and nurture leads along every step of the sales funnel.
Marketing Tracking
Marketing analytics give you the information you need to compare marketing and sales strategies and identify the ones that work best with each of your target audiences.
GoCRM provides automated analytics tracking to make real-time analytics easy to access anytime you need them. For example, with dynamic number insertion, GoCRM assigns a different phone number to each marketing initiative (e.g. Facebook Ads and flyers).
When someone calls a number, they are routed to your business, and GoCRM can track which marketing campaign sent them to you.
In addition, GoCRM allows you to track the origins and journeys of leads who accomplish tasks such as submitting forms, scheduling consultations, requesting information, visiting your website, signing up for resources, and more.
When you know which marketing efforts work best, and are delivering the highest conversion rates, you can maximize your ROI by implementing the most effective strategies for each of your target audiences.
💡Takeaways
Solar energy CRM marketing automation can help you save time, accomplish more, and realize a higher ROI than if you tried to accomplish the same task manually. Use GoCRM in order to work smarter, not harder, for your solar energy business. Sign up for a 30-day risk-free trial.