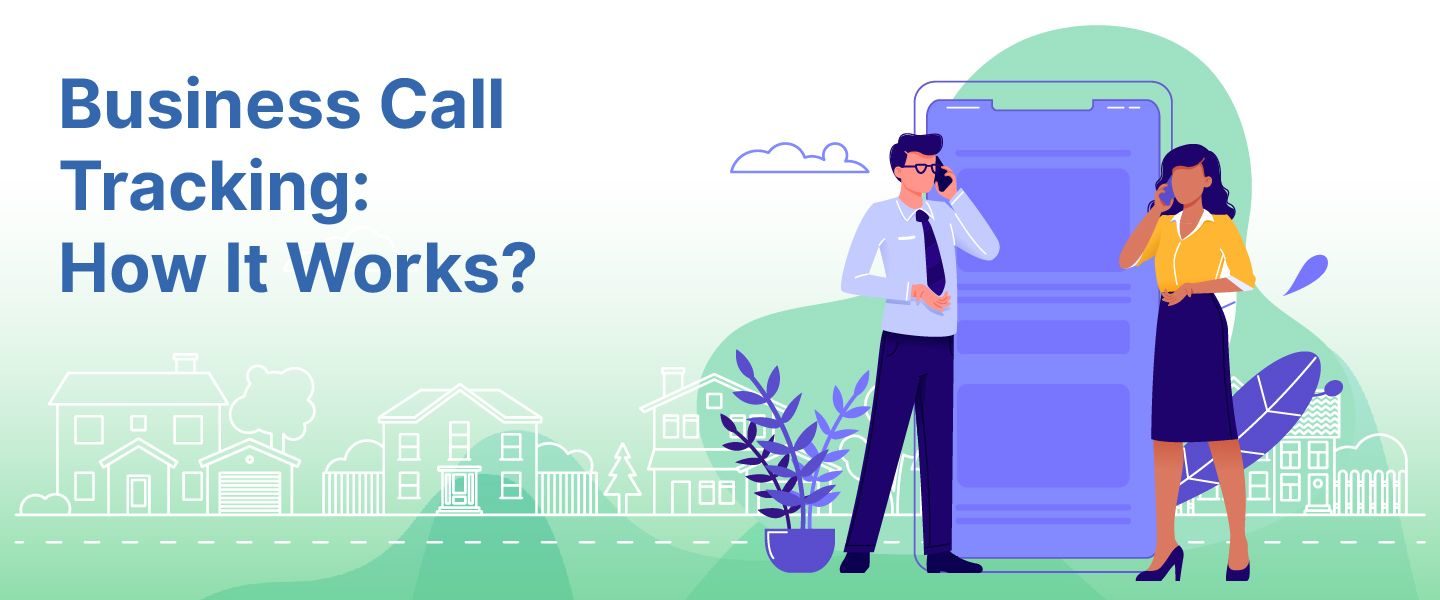 What Is Call Tracking And How Does It Work?
When a customer calls your business, you need to know how they learned about you. Business call tracking provides this answer. This marketing tactic gives you an accurate way to track phone calls from both online and offline marketing efforts for a very reasonable cost.
What Is Call Tracking In Business?
Call tracking in business is the practice of linking specific phone numbers to specific online and offline marketing campaigns. When a customer calls your business using one of these numbers, you can easily identify which campaign drove the customer to call you.
In addition, by using call tracking technology, sales and marketing teams can enjoy a 360-degree view of the phone call and the lead behind it. They can track information such as how the call went, how the lead responded, and whether a conversion ever took place.
What Is Dynamic Number Insertion?
Dynamic number insertion is the practice of assigning a unique number to each campaign you wish to track. Potential customers who call that unique number are forwarded to your primary number. Your call tracking technology logs which unique number the caller is using to reach you, so you can easily link them to a specific marketing effort.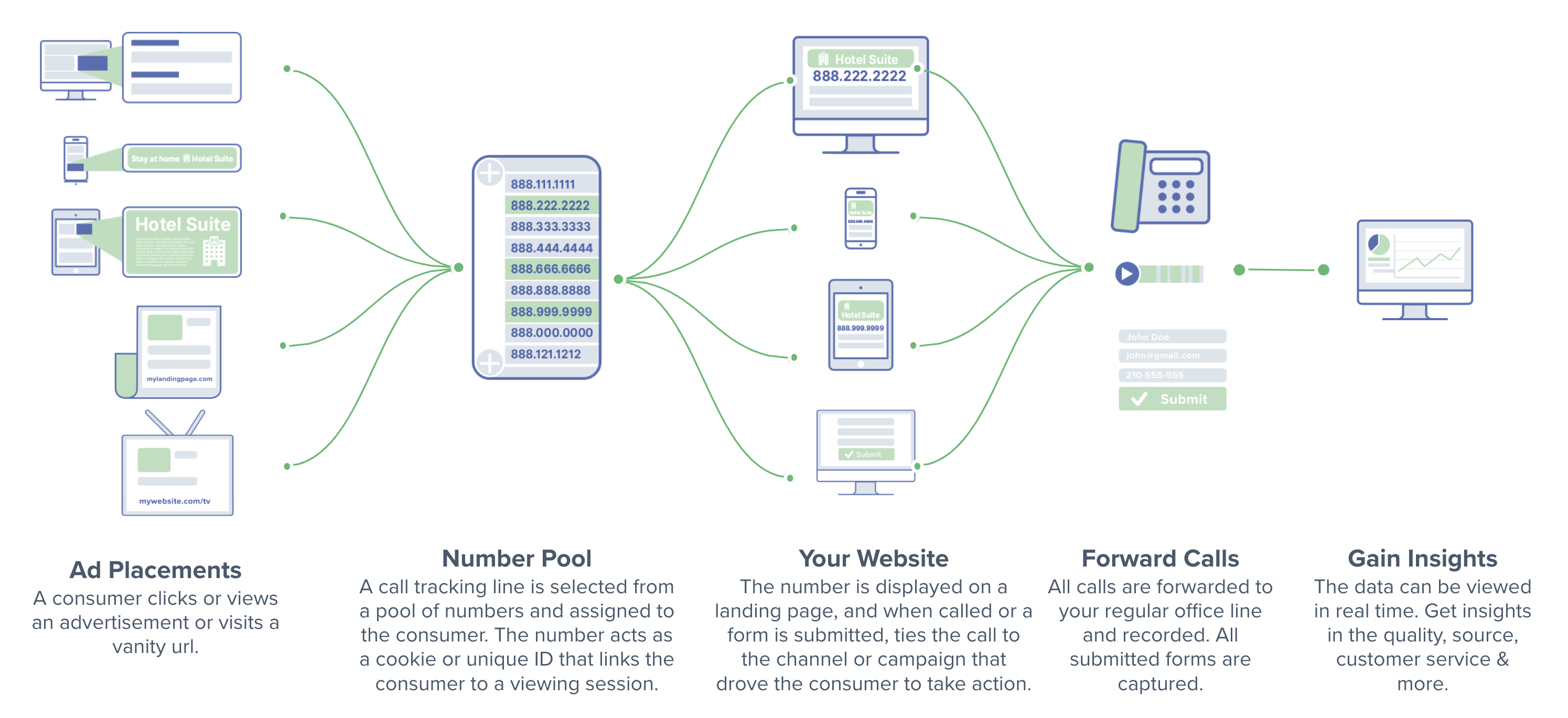 For example, you may assign one number to your social media campaign, and one to your billboard campaign. When a prospect sees your billboard and calls the number, the call tracking technology logs the billboard number as the one that was called. The same process would apply every time someone called the number you included in your social media campaign.
You can use DNI to assign a separate number to every online marketing campaign or advertisement you create. However, DNI works best when you limit your numbers to two online numbers (One for your website and one for your other online efforts) and other unique numbers for each of your offline advertisements.
How Does Business Call Tracking Work?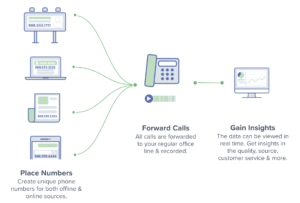 Call tracking works by using dynamic number insertion to assign a unique number to each of your desired campaigns, whether online or offline. That technology then creates an entry in your dashboard every time someone uses one of those numbers to call your business.
In concert with robust customer relationship management, call tracking paints a complete picture of every phone call that comes from your marketing efforts. Integrate call tracking with your CRM to evaluate the quality of the call, record follow ups, and track interactions and conversions to take the next best steps to turn your phone leads into paying customers.
Why Is Call Tracking Important In Business?
Call tracking in business is important because, even in a digital age, phone calls generate leads and sales. As a result, businesses need to understand exactly how phone calls are contributing to their bottom line. Call tracking provides this information by developing a picture of who called from each campaign and what those phone calls (And, by extension, those campaigns) did for the business.
Mobile searches lead to phone calls 61 percent of the time. About 65 percent of Fortune 500 companies consider phone calls to be their highest quality lead generators. Yet, phone calls are not trackable using traditional online analytics. Without call tracking, phone calls generated by your online and offline campaigns do not count in your total numbers.
Call tracking fills in this missing information so you can accurately evaluate your campaigns, follow up with potential leads, and focus your marketing and sales efforts on those campaigns and leads that matter most.
Call tracking even allows you to evaluate the effectiveness of your sales strategies and the quality of your sales calls. As a result, call tracking leads to (1 Improved ROI (2 More conversions and (3 Better customer service.
Is It Legal To Use Call Tracking?
Call tracking is not the same as recording phone calls (Though you may choose to do that as well). It simply records the phone number that the prospect calls in order to track marketing campaigns and sales strategies. As a result, call tracking is a legal practice that does not infringe on the privacy of your customers.
If you do choose to record phone calls as part of your call tracking process, you may need to follow certain steps to inform the caller that their call is being recorded. Before implementing call tracking or recording, be sure to check with a legal professional about the intricacies of doing so in your state and your situation.
Can Small Businesses Implement Call Tracking?
Call tracking is a valuable tool for small businesses who want an easy and inexpensive way to track their marketing campaigns and include phone calls in their analytics. Call tracking is simple to install, because it does not require advanced hardware or infrastructure, and it is cost-effective, fitting into almost any small business budget. In addition, call tracking can even save small businesses time and money by allowing them to focus their resources on the marketing and sales strategies that work best.
How Much Does Call Tracking For Business Cost?
Call tracking for business is relatively inexpensive. GoCRM, for example, only costs $39 a month per user for a full suite of CRM tools and integrations. You can then add dynamic number insertion to your monthly package for only $45 a month. Other CRM call tracking platforms range between $25-$125 per user per month.
Other CRMs also allow you to integrate call tracking with their platforms, for an additional cost. Consider the integration costs of these CRM softwares:
Salesforce: Up to $25 per month, per user
Close.com: Will provide call recording at its business level of $123.25 a month, but does not provide dynamic number insertion.
Freshworks.com: Allows you to buy, mask, and port numbers. Its costs range from free (plus $1 a month for each number you buy) for startups to $99 a month per user plus $1 a month for each number you buy for enterprises.
What Are The Pros And Cons of Call Tracking For Business?
Call tracking can increase ROI and improve customer experience. Taking the right steps can help businesses reap these benefits while avoiding downsides such as technical difficulties and potential confusion among consumers.
Some of the pros of call tracking include: marketing attribution, fewer lost leads, time saving, more control over sales and marketing and its affordability even for small businesses. Some of the cons include: lack of SEO friendliness, potential for customer confusion and technical difficulty when implementing.
Let's look at the pros and cons in detail:
Pros

Cons

✅ Marketing Attribution

Call tracking makes it easy to attribute every lead to a specific marketing effort and to analyze the effectiveness of each campaign, even those that do not benefit from traditional online analytics.

❌ Lack of SEO friendliness

If you use too many unique numbers to track your online marketing efforts, you risk running afoul of Google, who may penalize your website for what it considers to be gray SEO techniques. Communicate clearly with Google's search bots by limiting your online numbers to two and by avoiding the use of call tracking in your directory listings.

✅ Fewer Lost Leads

Call tracking cuts down on the number of leads that fall through the cracks by ensuring that every lead is logged and tracked. Call tracking also ensures that leads earned through phone calls instead of digital means are recognized.

❌ Customer Confusion

If customers see different numbers for your business in different locations, they may be confused about which one is your "real" number.

✅ Save Time

Call tracking saves time by improving the efficiency of marketing campaigns and by automatically identifying the origin and progress of phone calls. That means that your sales and marketing teams can target their efforts on growing impactful campaigns and processes.

❌ Technical Difficulty

If your call tracking technology does not work correctly, or if you do not understand how to use it, you may not reap the full benefits available through this strategy. You can prevent these problems by choosing a reliable business, like GoCRM to provide training and support to ensure the smoothest use possible of your call tracking technology.

✅ More Control

Call tracking improves the control you have over your sales and marketing efforts by delivering actionable information to your fingertips.

✅ Affordable

Call tracking can be implemented for a very low cost. As a result, even small businesses can afford to track their marketing performance.
The pros that call tracking offers are important in driving increased ROI and in crafting more effective marketing campaigns and sales approaches. Call tracking does have a few potential downsides that you need to be aware of. However, savvy use of the right call tracking technology can help you to avoid many of these problems.
How Can You Implement Call Tracking?
Perhaps the easiest way to implement call tracking is through a robust CRM that includes dynamic number insertion and call tracking in its services. This way, you enjoy total integration and reliable training and support from the get-go.
GoCRM provides dynamic number insertion and call tracking that seamlessly integrates with the rest of the platform. As a result, call tracking becomes one tool in an entire suite of tools designed to help you track, engage with, and convert leads at every stage of the sales funnel.