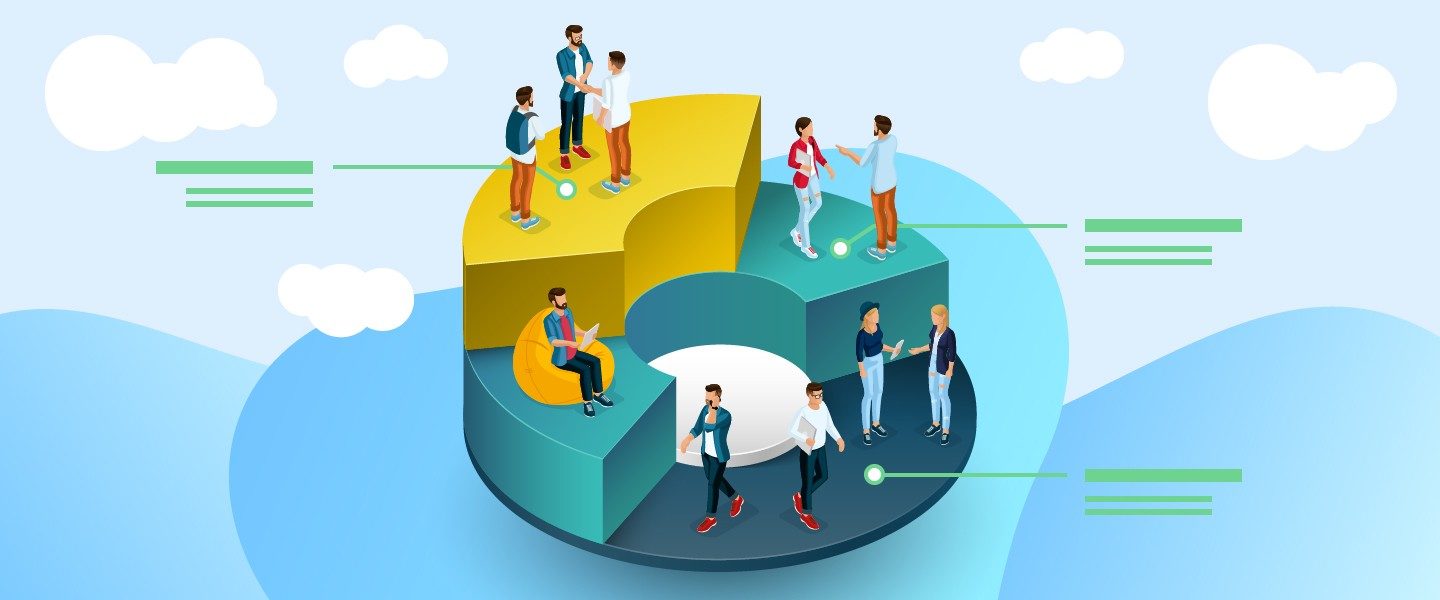 What Are Segments in Business? Which Segments Your Business Should Be Using?
The simple times of "one-size-fits-all" approach has passed. Now it is the era of customization & personalization. The more you know your audience the better you get to win their trust and basically their business. Technology has made people question if they are talking to a bot or an actual human being. Are they being emailed by a spam list or by an actual worth-their-time business. So keeping your human and personal touch is the key for your business to stay in the game.
As your business grows it's nearly impossible to know each one of your prospects and to figure the best way to win them. We all as business owners dream of having this magical ready-for-every-question assistant that stands behind you and lean in to whisper to you all the details about your potential client as they are walking towards you.
For example, when talking about text marketing for real estate, wouldn't it be perfect if we get to ask our clients how their tax refund is coming along? or check if they were able to find that house in the suburbs they were looking for? If you manage to make a lasting connection with your leads and customers it's easier to become friends and thus win clients for life.
Unfortunately, few have the capacity to do that. The good news, however, is that a perfect assistant does exist and her name is automations. Today, thanks to technology and automations, you get to know a great deal of data about your prospects before calling them or cold-emailing them. Social media can help you find prospects based on geography, demography, interests, their industry, size of their business and other aspects.
Using technology can guide you through the next steps, not just lead generation. With the right CRM, you can utilize segmentation technology to win these leads, turn them into paying long-term customers, and keep your existing customers happy and interested.
What is segmentation?
Segmentations is defined as the act of intelligently dividing a broad consumer lists consisting of existing and potential customers, into other sub-categories of consumers based on more specific characteristics that help business managers to target the right type of audience with the right type of personalized and customized content for excellent results.
Why do you need segmentation?
First, because every person hates to be treated as a part of a herd where they lose their individuality and uniqueness. Everyone gets the same email, same sales call, same offer and same everything.
Secondly, imagine emailing a customer you have arranged a demo with already saying "Hi, ready to schedule a demo time!" or if you send a closed deal an email with a new hot discount after they purchased at full price. It is also very annoying for customers to be emailed about things they have already said NO to or to receive multiple following emails about the exact same thing.
Segmentations help your business communication be more professional and personal and to avoid these awkward moments. More importantly, it helps you achieve great results with targeted and to-the-point content that's specifically created for this category and for a clear purpose.
Top Segments You Should be Using
Status segment
Status segment is based on the position in the sales funnel. The clear broad line is "Leads" vs "Customers". However, under each category there are many ways to segment these two broad categories. Leads should be divided based on where they are in your sales funnel, have they just clicked on your ad, booked a demo, have they received an introductory call, were they at all contacted, have they responded to your emails or not, and finally have they started a trial or the deal never got closed.
Using the "Status" filter helps you send an interesting message with clear call to action based on each phase. It also helps you create an automation workflow with best list of actions based on wither it's 'fresh lead', 'hot leads' or a 'cold lead'. Not every lead should receive the same content.
Last contact segment
Based on last contacted date. One of the most common reasons for people to unsubscribe for an emailing list is that they get dozens of emails right after the sign up feeling you are a spam. That's why you want to check the "last contacted" time closely along to your prospect status and only send what actually interests them.
It also helps you decide when is the right time for sending follow ups, or for checking on them again if they have turned to a cold lead or to check on your "trial customers" but not too soon so they get time to actually play around with your product.
Deals segment
The deals segment is based on the type of business deal. A closed deal is a tricky situation. You want to carefully make sure you are there guiding them and creating best first experiences for them with clear customer on-boarding campaign, yet you don't want to overwhelm them with features and "how-to"s that they give up finding you too complicated.
Monitoring your list of closed deals is critical to find this perfect balance between not leaving them alone with them not understanding how can your service work for them and between suffocating them with look-how-awesome-we-are kind of emails!
If you offer a free trial, that's even more crucial because you will be running out of time shortly and you want these trial days to leave excellent impact on them so they turn into paying customers.
Value segment
This segment is based on how valuable the customer is or can be. You will definitely have a list for your paying customers, but you might as well need to divide them based on their value. This can be based on how much money they spent with you, how large their business is, or how loyal/active they are with your promotions and social content.
Whenever you find something really promising about a customer you can use "Favorite" filter to add them to your favorite or VIP customers list. You can use this list to ask for reviews, testimonials or referrals. You can also choose them to be the first to know about your new released upgraded plans for premium features.
Segmentation is the base for a successful marketing and boosted sales. Knowing your audience best means building excellent communication with them, remarkable experience and tailored service.
Getting Started with Segmentations in GoCRM
Creating segments in GoCRM is easy, take a look at the following video to get you started into creating your first customer segments.
The below video will walk you through creating the following segments:
Statuses
Your Favorites
Not Contacted Recently
Deals
There are many ways and strategies to utilize segments in order to better serve your leads and customers. But the best strategy is the same. Start segmenting your leads as soon as possible. It will keep your business running more efficiently and grow faster.
Ready to start with segmentation? Start your GoCRM Free trial to organize your contact list and to start creating marketing automation campaigns in no time.