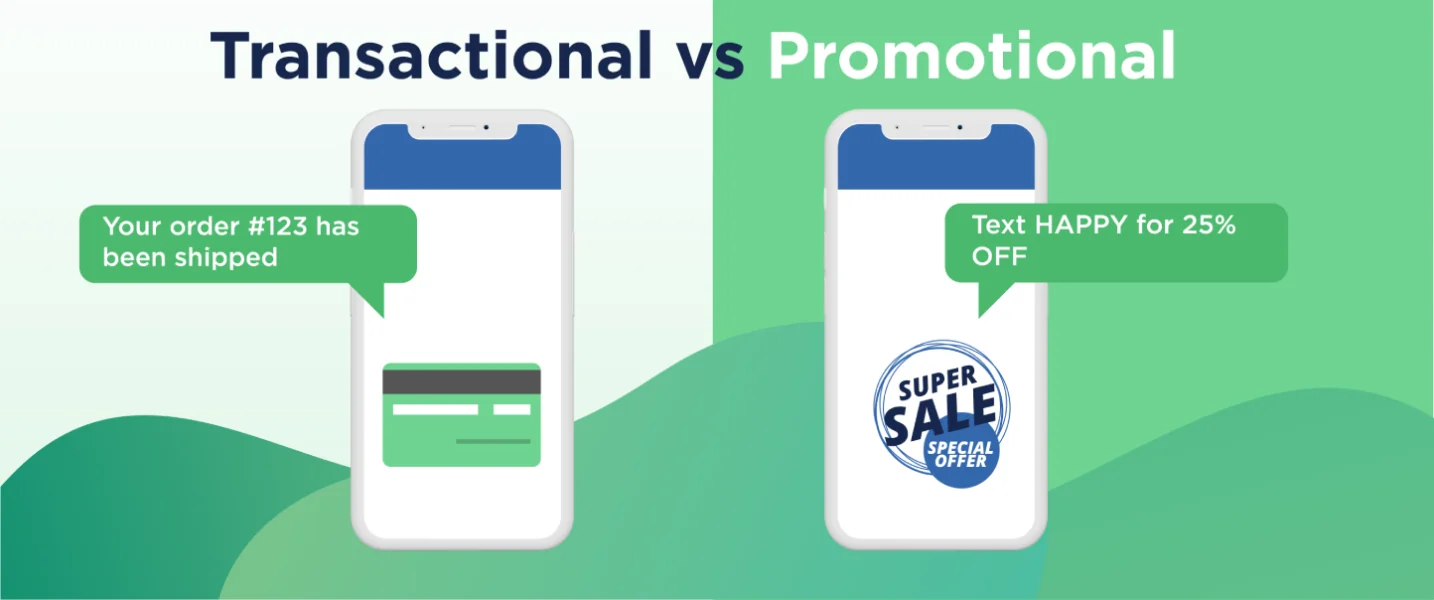 Promotional Text Messages vs Transactional SMS Texting – What's the difference and benefits for brands?
How can your business take advantage of modern text messaging tools? Brands, organizations or businesses send promotional text messages to their audiences to:
Drive sales or awareness about specific products, services or events; or,
Follow up or automate customer interactions.
As expected, there are important differences between promotional and transactional text messages. It's crucial to understand these differences to execute better marketing campaigns.
What's a promotional text message?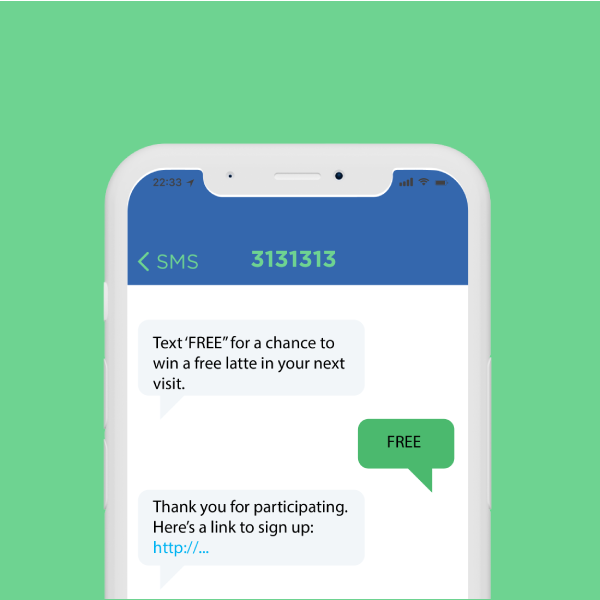 Promotional text messages are messages sent to promote, up-sell or advertise a product. Promotional text messages are pure marketing & sales messages. These messages abide by traditional phone call etiquette. Promotional messages limit to a 9 am/pm time frame.
Outside of adhering to opt-in procedures, promotional text messages are not solicited.
What's a transactional text message?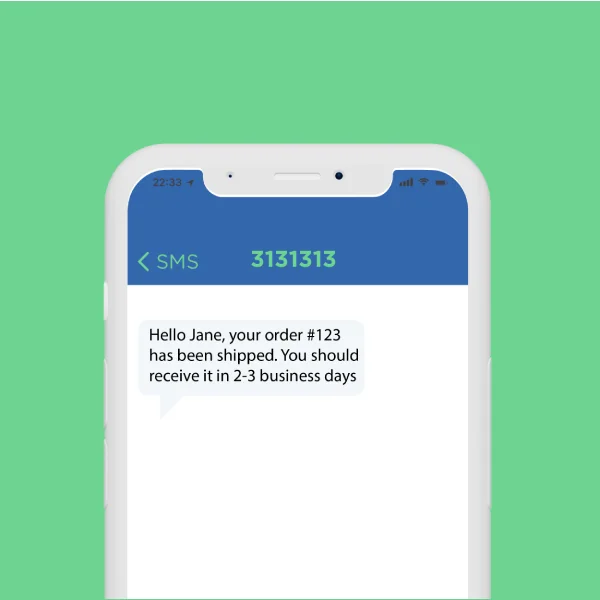 Transactional text messages are messages sent to already registered customers/audience, namely to continue an interaction. These messages are not for promotional, sales or marketing purposes. Their goal is passing transactional information about an interaction, of a product or service your customers are already using.
Regardless of a customers' DND (Do Not Disturb) status, transactional messages work 24/7. Disclosure of message frequency does not apply to transactional texting. Nonetheless, consumers should be made aware of how to unsubscribe from them.
Best practices for promotional texting
Heavy fines can incur if an organization starts sending promotional messages to users who have not provided consent. Thus it is important to understand the best practices of promotional text messages.
Promotional texting five best practices are:
Your business can't buy a list of consumer's contact information.
If a brand wants to send out promotional messages, the brand must first obtain permission from recipients.
SMS opt-in text messages, web-based signup pages, or a physical signature are all valid permission formats.
Recurring message programs must be disclosed to subscribers.
How to unsubscribe from recurring message programs should be communicated to recipients.
Promotional vs Transactional messages examples
Here are some examples of how promotional vs transactional texting compares: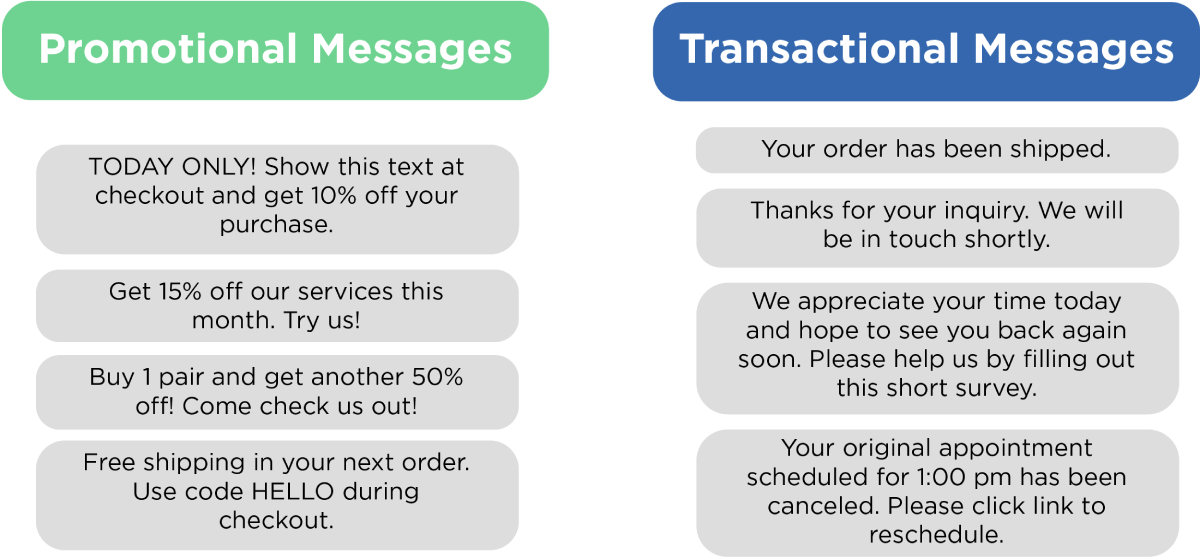 Text message marketing stats
Still hesitant about the potential of text messaging in your marketing communication program? Here are five SMS marketing stats to get you enticed.
75% of consumers agree to receive messages from brands (if they've opted-in).
90% of text messages are read within 3 minutes.
SMS messages have a huge 98% open rate.
Text messages have over 200% higher response rates than email, phone or Facebook.
Consumers redeem coupons received via SMS 10x more than other forms.
Benefits of a robust text messaging marketing and communication program
The benefits of having a robust marketing communication program are immense. A professional text messaging service for your business can help you:
Send SMS text promotions to your entire customer base with a few clicks.
Shape your business by collecting critical feedback with mass surveys to customers.
Reliably and quickly communicate with your mobile workforce in the field.
Send alerts to your staff on important safety and security procedures or events.
Distribute discount vouchers or coupons to your customers directly on their mobiles.
Send transactional information such as text message notifications & alerts to all staff.
Send & attach menus, posters, flyers or other files in bulk to your customers and staff.
Manually texting your entire customer base is time-consuming and daunting. GoCRM can help you create marketing campaigns that include transactional and promotional messages. Not only will you be able to automate these features, but you will be able to track and follow-up accordingly. Learn a better way of doing business. Try GoCRM today!