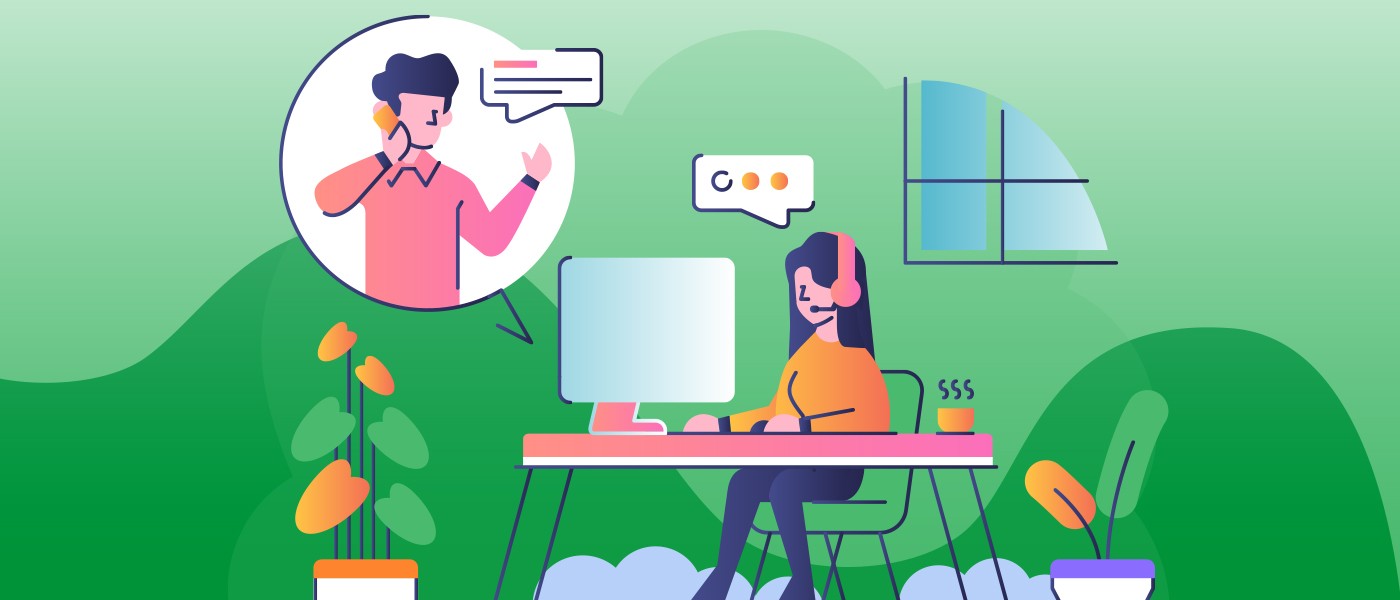 Customer satisfaction relies on prompt communication from businesses. Surprisingly, however, expectation often fails to meet reality when it comes to business' ability to reply to customers within their expected timeframe.
According to one study of 3,200 consumers, 88 percent expected a response from brands within one hour. The average response time from businesses? More than 12 hours. Up to 62 percent of businesses never reply to customers at all.
Failure to promptly provide customer service has serious repercussions for businesses. You might think your company is managing customer communications just fine, but consider these facts:
Customers do more business with brands that respond quickly to them.
Customers are likely to abandon businesses that do not get back to them.
Leads often go cold within one hour.
Fast response time is the most important attribute contributing to customer satisfaction.
Rapid replies make customers feel important.
If getting back to your customers in a timely manner is important, then implementing tools that make that process easier is equally important.
Do not rely on time-intensive manual processes that make it easy to overlook customer communications or that slow down the response process.
Instead, implement automations that improve customer response time, improve brand perception, and maximize your revenue. Here is a look at some of the most important ways automation can improve the customer experience.
Improve first response time (FRT)
First response time, or FRT, refers to the amount of time it takes your company to send an initial reply to a consumer. Your company's average FRT is the amount of time it took you to reply to customer queries within a certain time frame (e.g. A week) divided by the number of queries you received.
The lower your FRT, the better your customer experience is and the more likely you are to earn a lead's business. Often, you have one hour or less (About a third of consumers expect a reply within 15 minutes), before your lead goes cold.
Your customer service team may not be able to reply that quickly to every inquiry, but GoCRM can. Set up automated email templates or SMS messages to be sent when consumers complete a certain action (e.g. Fill out an online contact form).
Anytime a consumer takes that action, your CRM will immediately send the pre-written message. Automation reduces response time from hours to seconds or minutes.
You can even tell GoCRM when to send the message: Right away or after a few minutes to make the communication feel more natural.
Your first response to a customer is important because it sets expectations for all future interactions with them. Consider including some of these messages in your responses:
Timeframe for a follow-up response
Your business hours
Access to relevant resources
A thank you for contacting you
Self-service options, such as directing the customer to an FAQ page or manual
Improve first call resolution rate (FCRR)
Your first call resolution rate (FCRR) is the percentage of customer inquiries you resolve the first time the customer contacts you.
With 34 percent of consumers considering a rapid resolution as the most important element of customer satisfaction (CSAT), maximizing your FCRR is critically important.
Use automation to reduce the time it takes to resolve customer problems. In particular, use the automation available in GoCRM to promptly gather and communicate all relevant data on a consumer before you interact with them.
For example, GoCRM integrates with hundreds of platforms, importing relevant data and storing it in a central database. With a single glance, your sales, marketing, and customer satisfaction teams can see a lead's or customer's entire journey with your business.
With relevant information at their fingertips, your automation can qualify the agent experience, allowing them to dispense with time-consuming data collection and focus instead on resolving the customer's problem, leading to faster FCRR and happier consumers.
Create time-based, auto-generated responses
Automation through GoCRM can do more than generate automated first responses to customer inquiries. You can use pre-set workflows to deliver auto-generated responses for any number of customer actions.
All you have to do is build the workflow to your specifications and business practices, including emails, text messages, phone calls, and time intervals between communications. GoCRM will then automatically implement that workflow based on the parameters you set.
For example, set workflows to trigger based upon actions such as the following:
Prompt follow-up through automated workflows delivers important information to customers quickly. Because GoCRM delivers these messages from the assigned team member's personal phone number or email account, a customer's response reaches them immediately and allows them to seamlessly take over communication.
Time-based, auto-generated responses make it easy to quickly and accurately respond to consumers, improving your customer response time and success.
Track customer service responses
When you have to handle hundreds or thousands of customer inquiries every day or every week, it can be easy to lose track of some of those inquiries.
Lost inquiries naturally receive much slower responses, and those customers may never hear from your customer satisfaction team at all.
You can eliminate this problem by using GoCRM's automation to help assign, manage, and track your team's customer service responses.
For example, GoCRM can automatically assign a lead to a sales team member or a customer service representative. Anytime the lead or customer requires attention, the system can automatically send messages in that team member's name, schedule phone calls and meetings, and follow up with notifications and reminders to the team member.
With the assistance of GoCRM's automation, your customer service team will have an easier time keeping track of the customers they are in charge of and staying on top of the responses that are required.
Stop choosing speed over accuracy
You can improve customer response time without adopting automation, but chances are you will end up prioritizing speed over accuracy.
For example, a team member trying to write an email manually may forget important elements of the message (e.g. Sending someone to an FAQ page) in their hurry to get the message out. They may use a message template that does not apply to the customer's unique situation, or they may send a message before they gather all the relevant data.
In these cases, the response may be worse than silence, if the message is inaccurate or incomplete.
With automation, you enjoy both accuracy and speed. GoCRM provides all the relevant data in one location, delivers personalized messages crafted for the customer's specific inquiry, and connects customers to a real person on your team who is only a single message away.
As a result, you can deliver prompt and valuable communications to customers that improves their experience with your business, all while using less of your team's valuable time.
Track essential KPIs
Finally, automation can improve the customer service experience by helping your business track KPIs that show how well your customer service team is performing.
For example, use GoCRM's in-depth analytics to not only identify where customers come from and what their journey is, but how that journey is influenced by their interactions with your business.
When you can track FRT, FCRR, customer journeys, points of origin, and more, you gain a complete picture of your customer's desires, interests, pain points, and interactions. You can then use that information to identify areas of friction, resolve issues in your team, and improve your customers' overall experience with your brand.
💡 Takeaways
Automation can be invaluable to your customer response times. Reduce those times with a CRM that is designed to deliver information, automation, and personalization that keeps your customers and your team members happy. Contact us today for a free demo to learn more about how we can assist with your marketing, sales, and customer service needs.