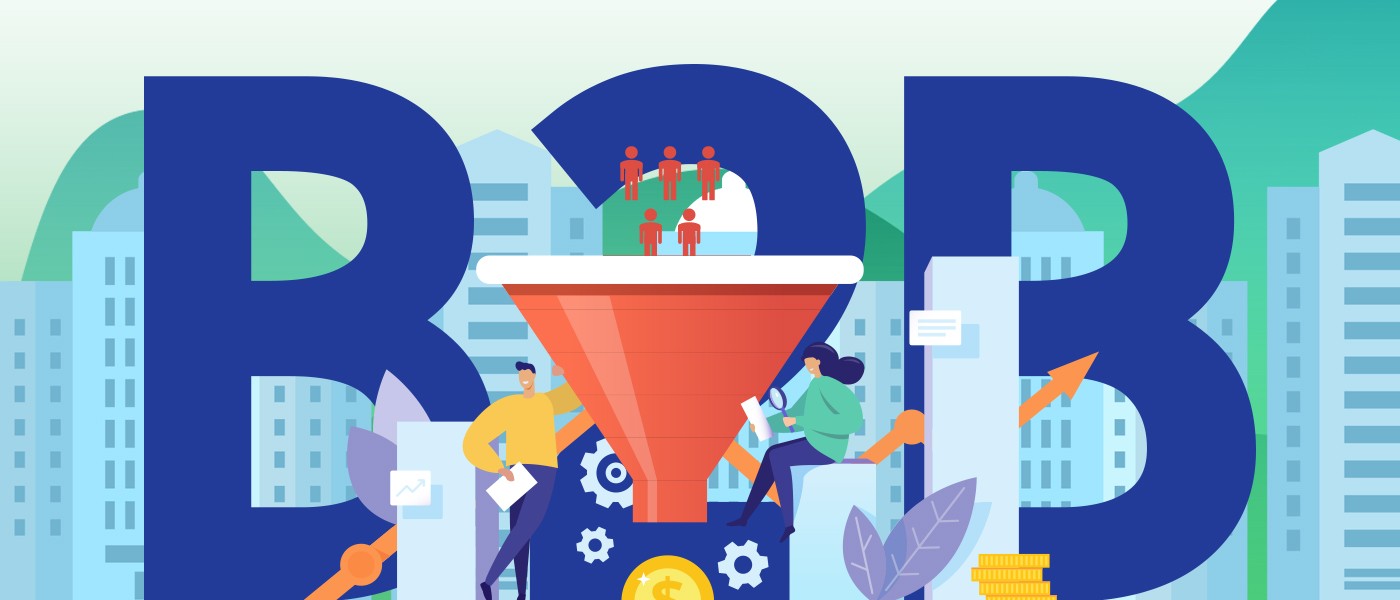 Almost every marketing activity involves a data journey where the customer contact or lead is taken through various marketing funnel stages to reach the desired goal. Process automation takes care of all these processes with the help of marketing automation software (such as GoCRM) and sets up the related instructions and workflow steps.
What is B2B Marketing Automation?
B2B marketing automation is the process of using relevant software technologies (think of CRMs) to automate, streamline and track B2B marketing operations and workflows. A marketing automation CRM streamlines all kinds of business-to-business marketing operations across multiple channels like email, direct messaging, phone calls, landing pages, online/offline ads, billboards & signage, and more. Data at each stage is automatically recorded, thus better tracking and measuring the campaign's effectiveness.
Automation saves time and helps marketing professionals derive more insightful analysis from their data and find ways to optimize their marketing campaigns. However, all is not well with B2B marketing automation.
Why B2B Fears Marketing Automation?
As is the case with any new technology, automation, too, can bring in a disruption to how marketing campaigns are carried out traditionally. The resistance to change can come from two main underlying reasons:
1) Lack Of Technology Expertise
While B2B marketing automation does involve the use of new software and technologies with a learning curve, it is still built on top of conventional marketing expertise and knowledge. Understanding that automation is only a tool, albeit a more powerful one compared to your traditional manual efforts, could help you be more welcoming of it.
2) Difficulty Quantifying Costs
Many small to medium-sized businesses could be reluctant to adopt B2B marketing automation considering the investment costs and training costs that go into adopting advanced marketing software. But in reality, these are reasonable investments as marketing automation stands to save you a lot of time and costs otherwise spent on many of the manual grunt work involved with marketing.
Your team would now be free to work on the more pressing matters and be able to strategize your marketing efforts quickly. A report by Salesforce says that companies that adopt marketing automation have had a 53% higher conversion rate leading to better lead management.
How To Use B2B Automation To Align Sales & Marketing
B2B marketing automation lets you streamline your marketing activities across all your major marketing channels like email, SMS, direct mailing, and phone calls.
By integrating with a unified data platform provided by your CRM, you can easily set up workflows that let you split or overlap each channel and accurately track the progress of your marketing campaigns. You can maintain consistent messaging, tone, and information across all your channels. CRM also lets you personalize these messages, thus helping you to reach out to your customers better and have better conversion rates.
7 Deadly Sins in Marketing Automation for B2B
Having emphasized the importance of employing B2B automation, it is our duty to also make you aware of the possible pitfalls and wrong routes you might take with automation. Here are the 7 deadly sins you must avoid to achieve the best out of your marketing automation implementations.
Sin #1 – Not Having A Strategy
Jumping into marketing without a strategy is more or less the same as skydiving with a faulty parachute. Do not have vague or all-encompassing strategies that have little to offer anything in terms of proper directives. You need to have a well-defined strategy with precise goals supported by real data.
Create proper plans for all your marketing campaigns, establish the metrics and benchmarks to measure your progress, and keep optimizing your strategies.
Sin #2 – No Alignment Between Marketing And Sales
Many organizations either fail to demarcate marketing and sales activities or lack proper cooperation between the two departments. Both situations can be hurting your business.
Encourage cooperation between the marketing and sales team to implement and make use of marketing automation effectively. Make a note of any cultural differences and communication gaps and try to bring in a healthy collaborative environment.
Sin #3 – No Content
The value of content for content marketing is indispensable. Without content, you have no way to communicate with your customers, no matter how good a strategy or plan you employ. Keep generating quality content that will support your marketing efforts.
Sin #4 – No Personalization
Email marketing is considered to be so far the most effective way to reach out to your target audience and connect with them personally. But simply sending loads of emails with no relevance and personal message will do little to boost your sales. Craft personalized messages in your email marketing campaigns and reach click-through-rate nirvana.
Sin #5 – Not Having An Omnichannel Marketing Presence
One other mistake that is most often made by businesses is that they fail to enhance their cross-channel marketing operations. By not streamlining the marketing efforts across multiple channels like email, phone calls, and direct mail, you stand to lose a huge potential for better sales. You need to use advanced marketing attribution to get a 360-degree view of data and workflow management.
Sin #6 – Not Using Workflows
Workflows based upon the buyer's journey allow you to engage your buyer personas and address their concerns at each point of the buyer's journey. In most cases, your workflows should derive from your marketing strategy. Hence, it is crucial that you use workflows to enhance your B2B marketing automation efforts.
Sin #7 – Not Focusing On The Right Metrics
You need to go beyond the default figures like open rate, click-through rate, conversion rates, and more to be able to assess your marketing efforts accurately. Look into all necessary and applicable key figures like marketing expenses, customer experience scores, and more to understand the effectiveness of your marketing operations.
💡 Takeaways
As is evident, marketing automation is the ultimate recipe to success that your business might need. However, it is essential to steer clear of all the mistakes that most companies end up making. Finally, using a marketing automation platform such as GoCRM allows you to track all your marketing activities, from lead to closing. Don't let your leads fall through the cracks! Contact us today and request a free demo.