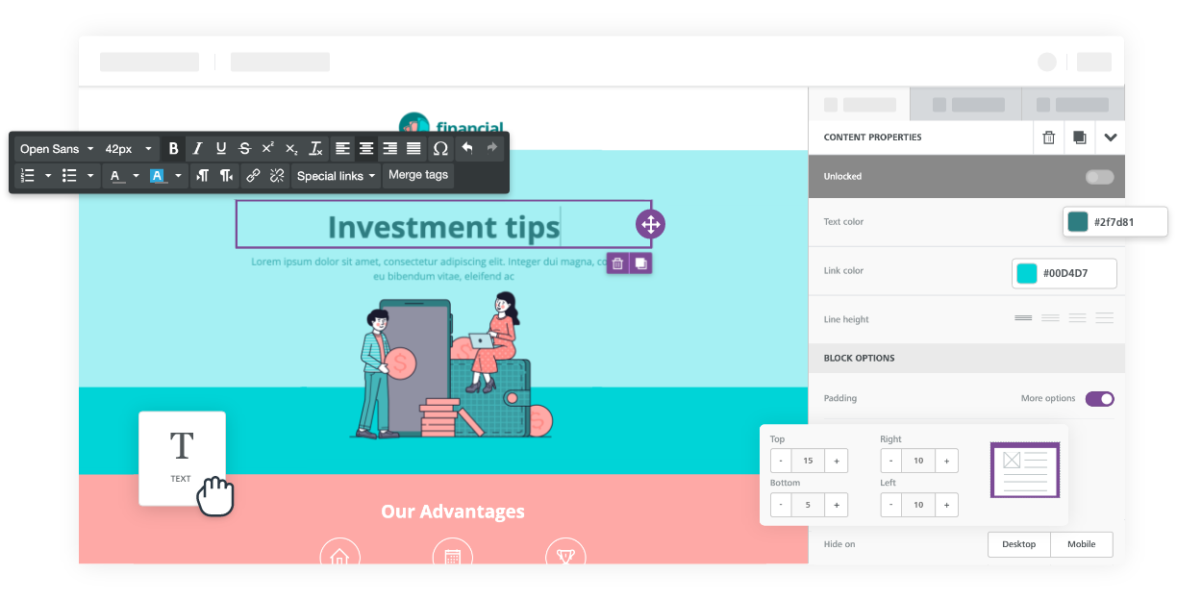 Any email which fails to stand out in your client's inbox suffers from a failure of design features. That's the reason GoCRM uses professionally reliable designs in its email templates.
Integrated with some of the major email providers, our templates help you keep track of all client communication from your account without moving between different platforms. This keeps communication up-to-date and consolidated. A GoCRM email marketing template blends ease of use with design flexibility.
Versatile features for Custom Design: Content and Structure
The email editor comes with a lot of fun, useful features. For example, it lets you play around with design elements like texts, images, and videos. It also brings to you a great number of choices when it comes to formatting rows, columns, and other settings to compose your mail.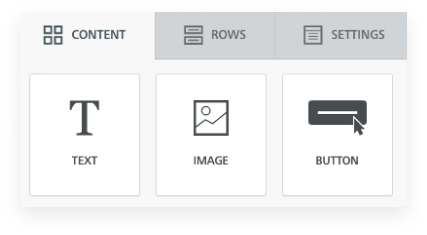 Content
Columns are usually meant for the content – text or image. Click on any tile to add a content element and drag it inside the columns. No need to fix the width as they will auto-fit. The sidebar displays the content properties.
Rows
They usually have up to four columns. You can add content to them or just leave them blank as suits your design.
Settings
This option lets you really bring together everything in the email. You can choose your default fonts and define the appearance of rows and columns.
Rows structure
Rows show the horizontal space and their usage in a mail. For this they use columns. You can add or remove the number of columns and display content next to each other. Each template is open to editing and this widens the design possibilities. For the mobile view, rows are stacked by default, unless you set them otherwise.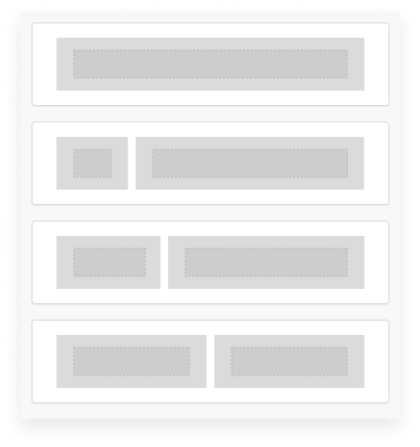 Now, there are 3 types of Rows you can use: Empty Rows, Default Rows and Custom Rows. Let's look at each:
i. Empty Rows
They are blank so you can design from scratch.
ii. Default Rows
They are the most popular templates so you can just jump-start designing. Layouts are ready to use and content placement is pre-set.
iii. Custom Rows
These are meant for specific uses. Should you need Mailchimp, HubSpot, SendGrid, or Klaviyo, you can swiftly access a customized layout.
Another way you can use layouts that fit your need is by searching for 'My Saved Rows' so that you can always go back to what is perfect for your GoCRM email.
Content Types
Add 10 types of content to your mail by clicking and dragging a tile inside any of the columns. Apart from texts, images, and videos, you can also include buttons, Gifs, Icons, and Stickers among other things. We'll look through the different content tiles you can incorporate in your message.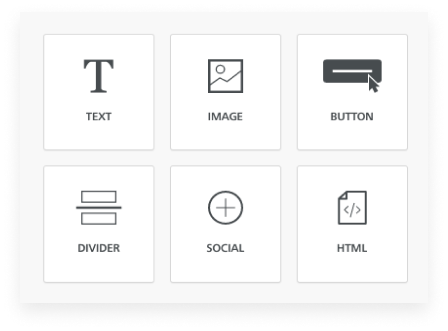 Text
Format anything you want – paragraphs and lines, links, and padding with the toolbar for texts. Important text blocks like 'Open Link' or "Make a Call' need careful designing.
Image
Add images after dragging the Image tile inside one of the columns. You can either drag and drop images or upload them from your system through the File Manager.
Button
Add buttons to your message with unique names, colors, borders, and thickness.
Divider
Highlight different sections of your message with various types of borders – solid lines, dots, slashes, or transparent strokes. Make them as thick or thin as you desire.
Social
Connect your social accounts with your mail. Add icons from an inbuilt list or upload one of your own.
HTML
Add HTML codes using the HTML tile. If the code is incompatible with the email, it is deleted so that you can send an error-free message.
Video
Link YouTube or Vimeo videos with the mail using the Video block. Just Copy the URL and paste it to add the video.
Sticker
Get your favorite GIPHY stickers in the mail. Drag the tile and begin your search.
Icons
Similar to social icons, this particular Icon block lets you include pre-listed items in the email maker or upload a personalized one.
Menu
Help your readers go back and forth easily in the email by adding a Menu block.
Configuring Message Settings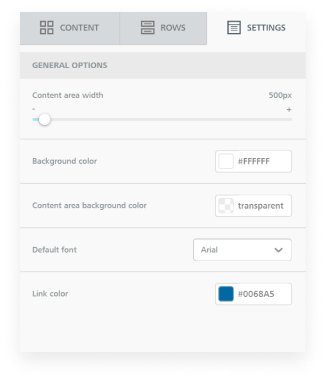 You can define the width of the content area, the background and link colors as well as the Font style in this Settings Tab.
The Content Area Width is set at 600px which is quite large and one of the most popular with desktop and web clients. The Settings section allows designers to configure every aspect uniquely like choosing different colors for different links or fixing every text block with a different font.
Exporting
So, you're ready with the email design now. All that's left to do is Export. There are 3 ways you can go about it – downloading a PDF version or a ZIP file with all the HTML and images, sending it to your default mailing service, copying the HTML only, or saving the template on the cloud to continue formatting.
Email templates bring freshness to your message and an impact that's hard to ignore. When combined with GoCRM's email tracking features, they are even more powerful. So, send them to clients or distribute them to your in-house sales teams to maximize marketing mails with GoCRM.