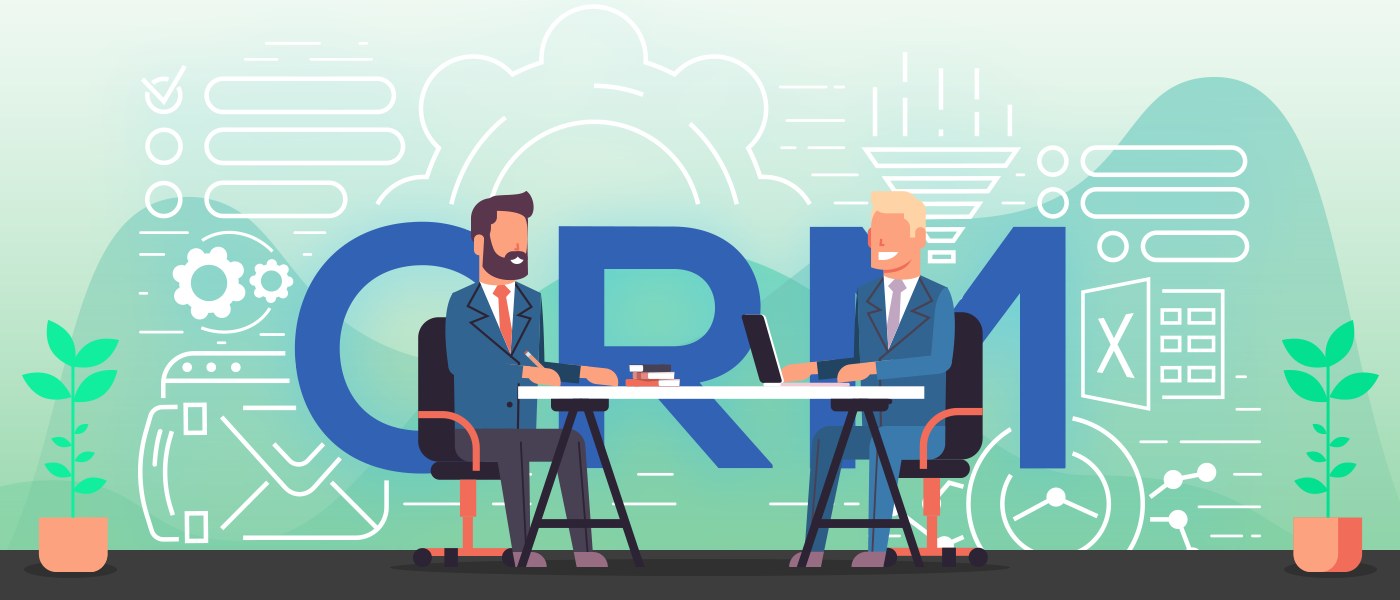 Salespeople spend only 34 percent of their time selling to prospective customers. The other 66 percent of their time is spent managing the data related to the sales process. Improved efficiency in the collection, organization, and management of that data is the single biggest way to boost your sales and marketing team's productivity.
Enter customer relationship management (CRM) software. A powerful tool with dozens of applications, CRM software automates tasks, creates efficiencies, centralizes information, and optimizes customer interactions for businesses of all sizes. With the right CRM tool, you can build a full-funnel approach to your sales process that nurtures leads through the entire customer lifecyle, all for less time, less effort, and (probably) less money than you are currently spending.
What is CRM software?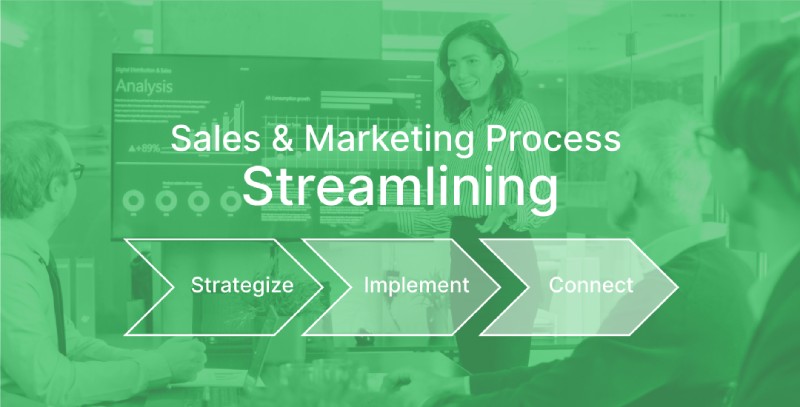 Simply put, CRM software is a program that gathers and organizes all data on every lead and every customer in a central location, where it can be used to forge strong customer relationships and improve interactions with leads.
However, CRM tools offer much more than centralized data storage. A good CRM is a powerful tool for streamlining your entire sales and marketing process so you can strategize, implement, and connect in a more effective and personalized way.
Imagine, for a moment, what you could achieve if you could automate email responses to initial online inquiries or automatically schedule a follow-up phone call 48 hours after an email to a lead. Would you be able to devote more time to closing the deal with your biggest leads? What if you could personalize your marketing to individual leads? Would you be able to close more sales more quickly?
Consider the efficiency your sales team could achieve if every email, phone call, meeting, contact form, and deal was automatically entered in one central location, rather than being spread across multiple platforms. Then, dream about what could happen if every team member could access this information at a single glance. And organize it and customize it.
If you are imagining new efficiencies, collaboration possibilities, happier customers, fewer missed opportunities and more sales, than you are imagining what is possible with the right CRM platform.
CRM Benefits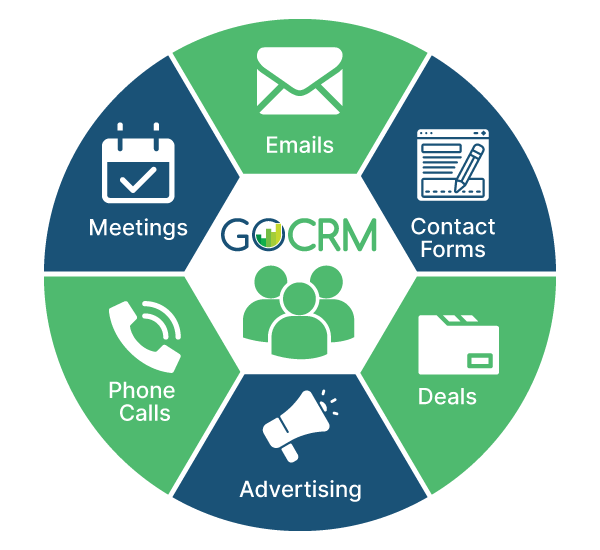 A good CRM, efficiently customized and utilized, delivers a wealth of benefits to an organization and its sales teams. Here are some of the advantages CRM software can give your business:
1. Data Organization and Utilization
Your CRM software will pull in data from many sources, including phone calls and emails, and organize it in an easy-to-understand format within the program. Your team can then organize, segment, analyze, and view this data at will in order to use it to its full potential to serve current customers and convert new ones.
2. Communications Personalization
Any team member can see a customer's entire history at a single glance, so communication is always streamlined and personalized.
3. Improved Customer Service
When your sales and customer service teams can see a customer's entire profile, including previous communications, purchases, and activity, they can better respond to customer needs. Improved customer service leads to happier customers, lower churn rates, and greater customer retention.
4. Improved Efficiency
With a CRM that congregates every single interaction in one easy-to-read interface, leads no longer fall through the cracks. No more missed phone calls, follow-up emails, or forgotten meetings. No more repetitive contacts and fewer hours getting up to speed on a customer before heading out to a sales meeting. Greater efficiency leaves your team more time to do what they do best: Sell your products and services.
5. Improved Collaboration
CRM software does more than improve interactions with customers. It enables collaborations among your team members and among the different teams in your organization. Everyone can access the same information on customers, enabling everyone to see what others have done with a lead and preventing miscommunications and redundancy.
6. Increased Sales
When your team has to devote less time to organizational tasks like entering data about customers into spreadsheets or hunting for the latest information on a lead, they can spend more time closing deals and making sales. Plus, the insights that a CRM provides into a customer's history and preferences allows your sales and marketing teams to personalize their approaches in order to win more customers.
7. Analytics Insights
CRM software can deliver critical information on every lead, such as business information, demographic information, and what ad or contact led them to your organization. Use these insights to craft personalized marketing, segment your leads, identify where each lead is in the sales funnel, pinpoint weak areas where customer churn is high, and more.
8. Task automation
Save your sales team hours of time and improve the percentage of time they spend selling by automating tasks, emails, phone calls, and workflows.
How does CRM software work?
A CRM software works by utilizing a wide array of features to automate tasks, emails, phone calls, and workflows, and to collect and organize data that you can then use to improve your sales and marketing efforts. A CRM program will also integrate other programs, such as email, phone numbers, texts, and even GPS in order to serve as a one-stop location for all sales and marketing related information.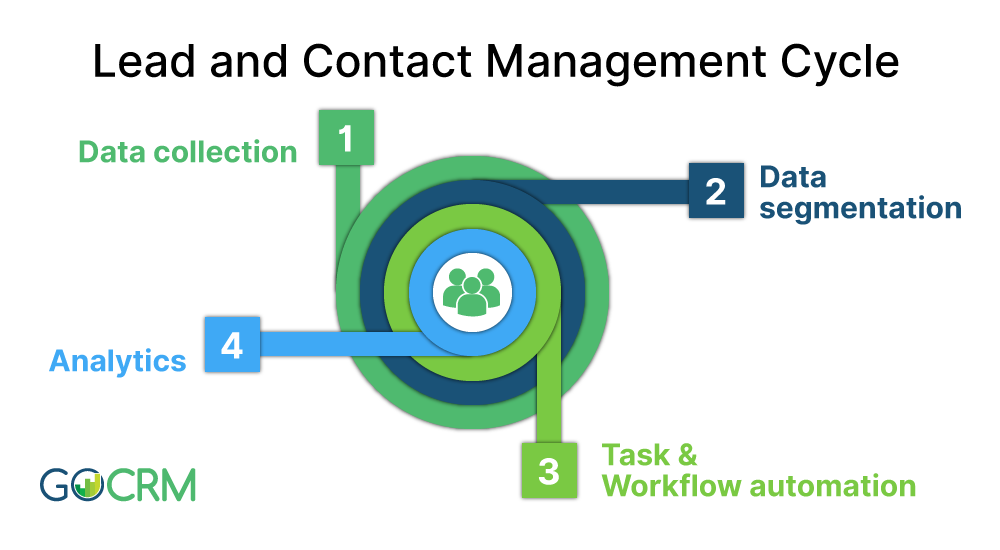 The specific features of a CRM will vary depending upon the platform you choose and the functionalities you need for your business. However, a good CRM will deliver powerful, streamlined, customized services in the following areas:
1. Data Collection
Your CRM software will work by pulling information in about prospects from every conceivable source, including phone calls, email, social media, your website, and more. Every time your sales team communicates with a prospect, that information will be added to the customer's profile within the CRM.
2. Data Segmentation
A CRM can segment your prospects by many different fields, from geographic location to location in the sales funnel to industry or demographic information. Segmentation allows for personalized sales and marketing techniques.
3. Task and Workflow Automation
Your CRM will automate many aspects of your workflow, including scheduling appointments and phone calls to sending emails and incorporating information into a customer's profile to save you time.
4. Analytics
A CRM's analytics capabilities allow you to track leads, conversions, and marketing efficacy and even evaluate a lead's importance so your sales team can focus on the most important prospects first.
5. Lead and Contact Management
CRM software enables the management of leads and contacts by displaying all communications and information about these leads and contacts in one easy to access location.
What's a good CRM software experience?
This wide array of services and functionalities allows a CRM to deliver productivity-boosting, efficiency-creating benefits that advance leads along the sales funnel with less work and more success on your end.
When you choose a CRM for your business, you can expect to go through a process of customization that matches the CRM's features to your business and your workflow. A good CRM like GoCRM should deliver the following experiences for your business:
Personalized Setup
A CRM should complement and enhance the workflows you already have in place so you do not have to completely change the way you do business. By integrating into your current workflow and processes, a good CRM software reduces the amount of training you need to complete and supports systems you already know work.
As a result, a CRM should work by enhancing the processes you already use. For example, if your workflow requires a follow-up phone call 24 hours after an email, your CRM should automatically schedule the phone call and add it to your customer's profile, rather than changing the frequency with which the phone calls are made.
Customized Utilization
You can also expect customized access to your CRM. GoCRM is completely customizable to meet your sales and marketing needs, whatever they may be.
For example, add as many fields as you need into a customer's profile in order to capture the information you need to effectively personalize communications and convert them. Segment your audiences based on your desired demographics. Here are just a few of the things that you can customize with GoCRM:
Lifecycles
Forms
Stages
Statuses
Analytics
All CRM Functions
💡 Takeaways
A CRM software is a powerful addition to any company's sales and marketing teams because it enables the efficient, transparent collection and utilization of customer data. As a result, it drives greater customer engagement, interaction, and support.
With GoCRM, you enjoy all of the benefits, functionalities, and efficiencies of a CRM software, and then some. We are the only customer relationship management solution that takes on a full-funnel approach by combining powerful marketing and sales features. This means you get a robust platform that supports scalable business growth, streamlines sales processes, and enhances the overall customer experience.
Does all this sound like something your business could use? Request a demo today to find out how a customized, integrated, powerful CRM software can change your sales and marketing efforts for the better.