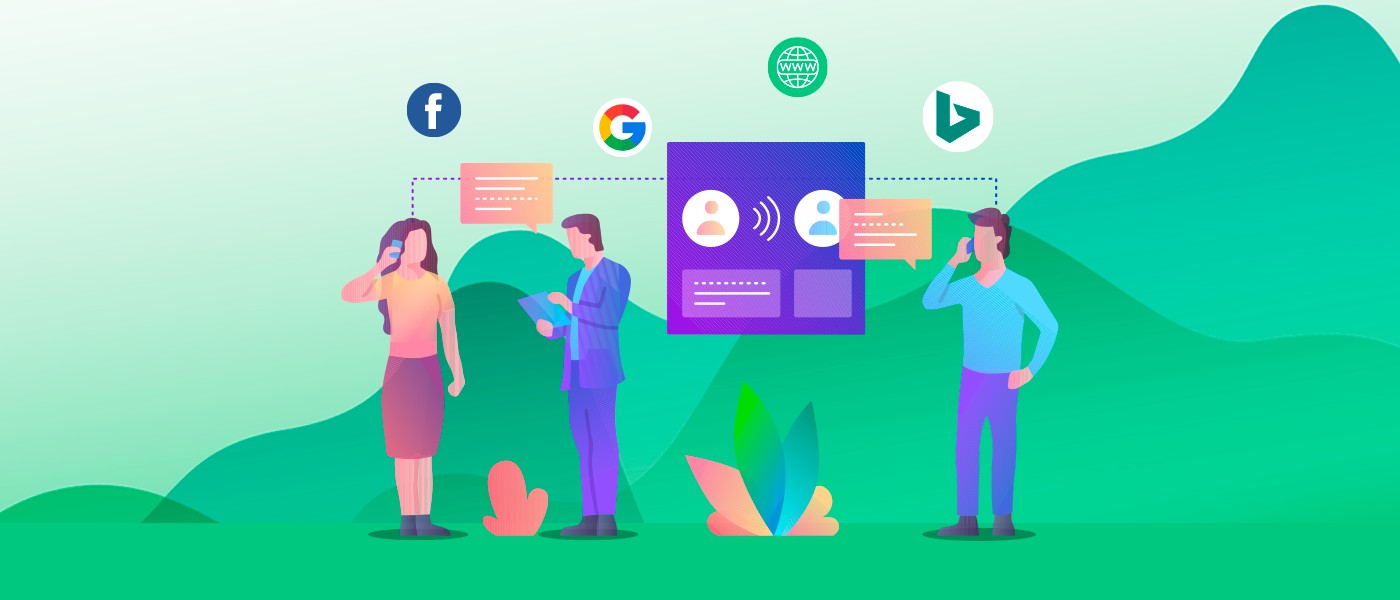 5 Reasons Why Your Business Needs Call Tracking Software
With more light shed on the value of calls in generating leads, converting them, and maintaining excellent customer service, call tracking became very essential to understand how to utilize this powerful channel to close more deals and boost ROI of your marketing efforts. Let's look at call tracking and learn some of its benefits, specifically for sales and marketing.
In the past, calls were more of a "black hole" in the marketing world, very powerful, but very mysterious. The only thing business owners were able to automatically measure about these calls was the number of calls they were receiving and the geographical location of each. Businesses had to rely on manual processes such as customer surveys, sampling, or call tracing in order to tell which were their lead sources.
Now, call tracking helps marketers understand everything about phone calls; where it originated, how it got handled, when was it last contacted, did the lead convert or not, where things stopped, etc.
What is Call Tracking in 2020?
Call tracking in 2020 is both a process and a technology (software) to enable the correct association of business calls to each lead source. It is used by sales and marketing departments to measure and improve performance-based campaigns in channels such as Google Ads, Facebook Paid & organic, Google My Business, Direct Mail, Billboard, Email, Landing Pages, Etc.
How Does Call Tracking Software Work?
Every ad, webpage, or landing page gets assigned a unique virtual phone number. When the phone call takes place, every interaction (from the first contact to conversion) can be tracked by the business. Each call is recorded and key data metrics can be stored and analyzed for follow up. Finally, they can also be shared to a CRM system to ensure all leads are properly followed up, even after conversion.
Why Business Needs Call Tracking Software?
The value of having a call tracking system in place is that businesses can use data to allocate resources more intelligently, instead of relying on hunches, ever-changing trends or unreliable customer surveys. By being able to tell the source of each lead, business owners, as well as sales and marketing teams can allocate more resources to the best performing channels. They can also remove some others that are not as profitable.
When coupled with a CRM (such as GoCRM), Call Tracking enables you to follow up on leads in whichever stage they are on the sales and marketing funnel.
The importance of being able to tell the origin of each lead is crucial. Let's look at 5 reasons why your business needs call tracking.
1. Boost ROI of your Different Marketing Channels
You most probably have invested in many marketing channels and you pay quite a fortune on marketing. With call tracking, you can understand which channels originate more calls, and from these calls which channel gets your business excellent and converting prospects. So it is both the number of leads and the quality of leads coming from each channel.
Why is this important?
To enhance the top marketing channels, say the web page most visited and with the most calls, or the social media, or a third party website where you have a PPC ad and so on.
To eliminate campaigns and marketing sources that came out with poor results so you save unworthy spending or put it on your winning horses.
2. Improve SEO/SEM & Website Experience
Similar to the first point, by understanding the web pages and third-part-sources that most calls are coming from., you will understand how you are found by the search engines and what keywords used by customers most to find you and from there you can build an excellent SEO and SEM strategy to drive more leads the same way.
Contact us if you want to learn some clever ways to use Google My Business with Call Tracking for your business.
You can also improve the website experience based on the call tracking data by adding a call-to-action button and improving the user experience with the different web pages.
3. Increase Conversions
Studies found that phone calls have 30-50% conversion rate. With such high-potential prospects, you need to understand as much information as possible about this lead to increase the conversion rate to even more. Such information can be the web page the lead was on, which consequently helps you understand their needs and concerns and where to take it from to close the lead. If they called from and ad, you will be able to understand which selling point to use in your pitch and focus on.
4. Enhance your CRM
Using a CRM system to integrate it with a call tracking software or even better using a CRM that offers call tracking all-in-one helps your business in many ways:
It will save you so much time by automatically adding leads to your database, keeping a record of all past communication with this lead, recording the calls to review before making a follow up call and most importantly, by helping you understand where you stopped and what you can use next to finally close the deal.
Assigning each lead to the right team member based on understanding the channel or the marketing campaign it came from and the time zone and location of each lead. The team member will also be able to go through past communications with the lead, if there is any, for best results.
Team leader monitoring: With a CRM the sales team leader will be able to review each team member's performance with their assigned leads and will be able to listen to calls to give real and to the point feedback on what can be improved.
5. Providing Excellent Customer Service
Call tracking value doesn't stop with marketing and sales but continues to customer success. A CRM that records calls and track their source, and can segment calls based on certain attributes of the callers; helps businesses to provide excellent customer service on so many levels:
Listening to recorded calls makes the customer service team able to identify the frequently asked questions, common concerns, and regular complaints and difficulties with the tool/service.
Using all the above helps in building an excellent knowledge page and video tutorials handling all situations where customers got stuck.
Recording calls is very important to improve the quality of the service provided with agents being regularly monitored and given productive feedback on their weaknesses and strengths in communicating with customers over the phone.
Taking the recorded customer feedback and suggestions in considerations in your continuous efforts to improve and add more features/products.
💡Takeaways
Call tracking is a game-changing business strategy that helps you determine the real value of your marketing ROI, cut off wasted marketing expenses, convert more leads based on data-driven pitch, identify your excellent sales people and assign them the right leads and finally provide you with customer service insights needed to grow your business.
Ready to start with call tracking? GoCRM offers you call tracking, marketing automation and CRM all in one! Start your free trial now!