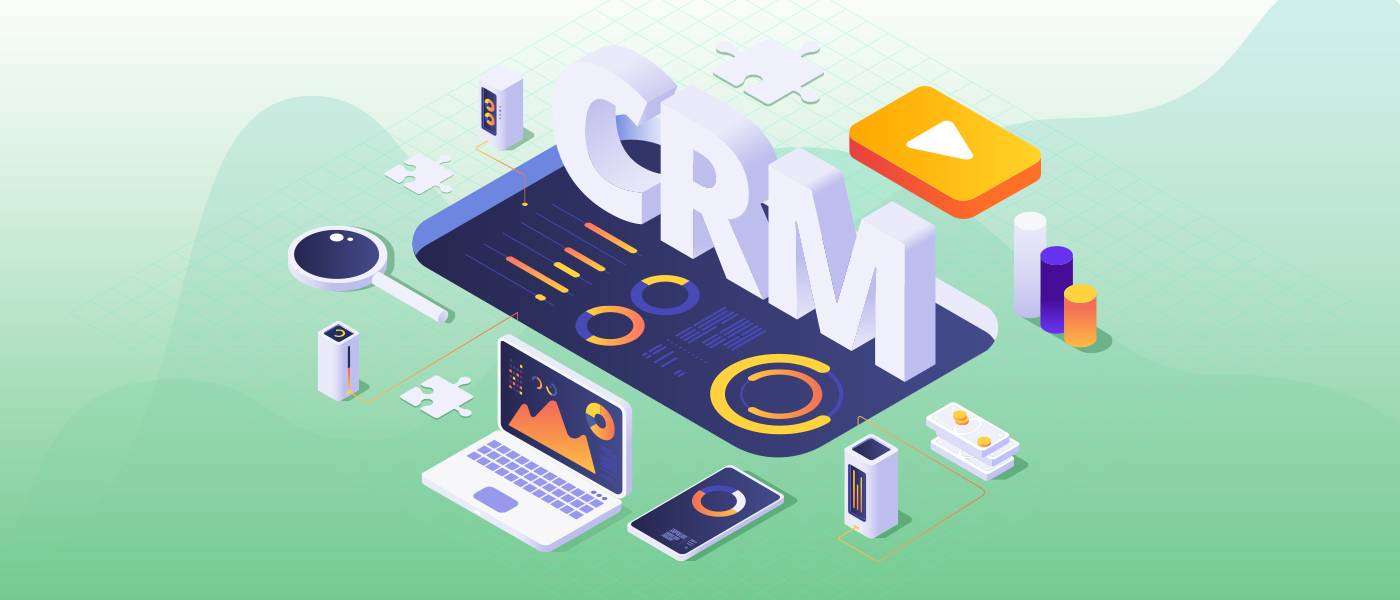 Text message marketing is no more a choice for businesses but a mandatory requirement. Research suggests that 98% of all text messages are opened compared to only 22% of emails.
What's more? Not everyone has access to a smartphone and the internet, but more than 5 billion people in the world can send and receive text messages. This makes sense as to why you must invest in text marketing. So, are you looking for the best SMS CRM system? We have got your back. In this article, we will explore the best CRM for texting to assist your marketing efforts.
Top 10 CRMs for Texting
Agile CRM

Although Agile CRM doesn't support text communication, it allows you to tap on unlimited communication options through Twilio integration. Integrating Twilio with Agile CRM will enable you to handle calling and texting from within the CRM.
The CRM also allows you to keep tabs on the messages sent. You can create customized reports and fetch insights into the call data to make educated decisions. However, viewing the complete list of contacts is difficult with the CRM, especially if you have more than 10,000 contacts in it.
Vtiger

Vtiger is another CRM on this list of the best small business CRM for texting. Vtiger helps you send text messages on the go. You can choose to send SMS to multiple records and from the detail view.
In addition to texting, the CRM also helps you with contact management, email marketing, reporting, forecasting, and more. One of the downsides of the CRM is that it lacks various standard and advanced features.
Bitrix 24

Bitrix 24 is a project management tool that can grow with your business. It can be easily integrated with major messaging platforms like Instagram, Telegram, Slack, Skype, Viber, and more. It features live chat integration with conversation routing, contact information capture, and canned replies features.
However, this SMS CRM lacks customization. User-interface looks a bit outdated and hard to use.
Freshworks

Freshsales, formally known as Freshworks, is a comprehensive CRM that can be integrated with an SMS provider of your choice to text target customers. You can run tailored texting campaigns to send personalized messages. What's more, the CRM also supports 2-way sync, enabling you to send, receive, and manage messages on the go.
One of the drawbacks of Freshworks is that it doesn't support bulk texting, and it requires an add-on for geolocation.
GoCRM

GoCRM is a go-to CRM for sending and receiving sales & marketing via SMS. GoCRM's mobile app allows you to send and receive text messages on the go.
One thing that sets apart GoCRM from other CRMs is the fact that it is not just a CRM but comes with automation marketing capabilities as well. Thus, it would not only let you text your customers; it also helps you run automated campaigns. You can send standardized templates and track all the text communications so that nothing goes missing. This is ideal for small businesses with limited budget but a variety of requirements.
Close

Next on the list is Close CRM. The CRM features a built-in-one-click SMS functionality that allows you to send SMS on the go. You don't even have to switch between texting apps and multiple windows. All you need to do is click Send from the existing Close number, and you are done.
The drawback is that most of the more advanced SMS marketing features we are comparing are only available in the top tier pricing plans. Making this an expensive solution for small business.
Bigin (by Zoho CRM)

Bigin is a flow-centric CRM from Zoho that makes it easier for you to manage customer relationships more than ever. With integrated telephony, it allows you to make and answer calls, get phone numbers from the team, send text messages, and do more.
Although Zoho backs up the CRM, Bigin lacks advanced features that you would otherwise expect from a SMS CRM system. For now, the features being offered seem too basic for established businesses.
Salesmate

Salesmate lets you streamline communication with your customers by sending text messages directly from the web app. The CRM organizes your conversations nicely to provide you with crucial insights. It also supports bulk SMS and lets you send personalized messages with text scheduling capabilities.
In the CRM front, Salesmate lacks voicemail as well as check-in features in their mobile app. Also, texting from local numbers requires an add-on.
SimpleTexting

SimpleTexting is an all-in-one text messaging service that offers you business text messaging, toll-free text messaging, and automated text messaging. The service allows you to enable 1-on-1 texting on a new dedicated number or an existing line. You can have two-way conversations, get a unique number, and send texts to large groups at once.
SimpleTexting is not a CRM or marketing automation tool per se, but if you're only looking for bulk texting capabilities, you should check them out.
TextSanity

TextSanity features an easy-to-use web app that can be used to send mass text messages effortlessly. The app provides you with a Broadcasting feature that allows you to send bulk text messages to a group of people or contacts under a specific tag.
It is essential to mention here that sending messages via TextSanity is legal and compliant with federal TCPA laws. Thus, it is required that you must have the consent of the users before sending a mass text message to them for business purposes.
Similar to Simple Texting, Text Sanity does not provide CRM capabilities. If all you need is sms marketing, maybe give them a chance.
Best CRM for Texting Features Comparison
CRM
/
Feature
Agile CRM
(Regular Plan
@49.99/mo
VTiger
(Sales Enterprise Plan
@42/mo)
Bitrix 24
(Standard Plan @99/mo)
Fresh Works
(Pro Plan @59/mo)
GoCRM
(Standard Plan
@39/mo)
Close CRM
(Professional Plan
@95/mo)
Zoho CRM
(Professional Plan
@27/mo)
Sales Mate
(Growth Plan
@30/mo)
Simple Texting
(Standard Plan
@45/mo)
Text Sanity
(Standard Plan
@45/mo)
Send & Receive Texts Online
✅
✅
add-on
✅
✅
✅
add-on
✅
✅
✅
Text From Local Numbers
add-on
❌
add-on
✅
add-on
✅
❌
add-on
✅
✅
Phone System
✅
✅
✅
✅
✅
✅
add-on
✅
✅
❌
Click-to-call
✅
✅
✅
✅
✅
✅
add-on
✅
❌
❌
Call logging
✅
✅
✅
✅
✅
✅
add-on
✅
❌
❌
Call recording
❌
✅
✅
✅
✅
❌
add-on
✅
❌
❌
Voicemail
❌
✅
✅
✅
✅
❌
add-on
❌
❌
❌
Mobile app
✅
✅
✅
✅
✅
❌
✅
✅
❌
✅
Check-in and check-out feature
❌
❌
✅
✅
✅
❌
❌
❌
❌
❌
Geolocation
❌
❌
❌
add-on
✅
❌
❌
✅
❌
❌
Automates SMS
add-on
✅
✅
✅
✅
❌
❌
✅
✅
✅
Workflows
add-on
✅
✅
✅
✅
❌
✅
✅
add-on
❌
SMS personalization
add-on
❌
add-on
✅
✅
❌
✅
✅
✅
✅
SMS Campaigns
add-on
❌
add-on
✅
✅
❌
✅
✅
✅
✅
SMS Reply Actions
add-on
❌
add-on
✅
✅
❌
❌
✅
✅
❌
💡Takeaways
While text marketing capabilities are wide and varied, only a few applications provide comprehensive solutions at an affordable price. At GoCRM, we make sure our best-in-class product meets the requirements of small business while providing a full-funnel marketing approach, essential to guarantee business success. Contact us and request your free GoCRM trial.