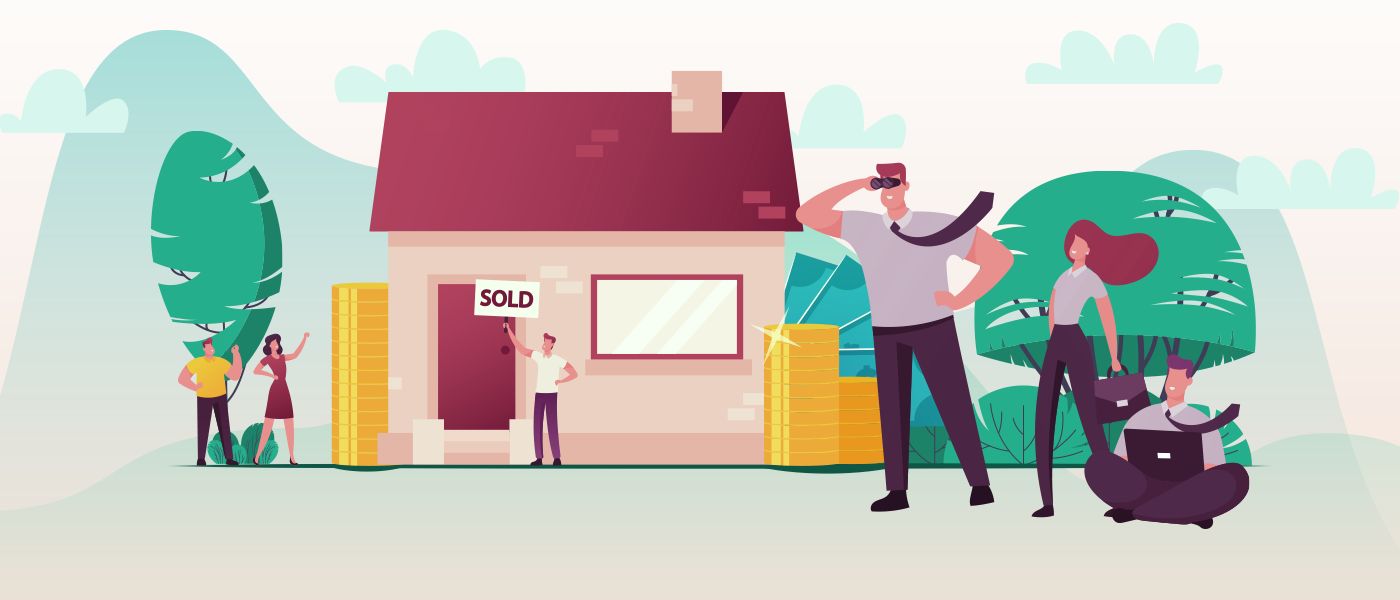 Real estate transactions are unique. Long-term, individualized, and complex, they require more attention, greater nurturing, and smarter strategies than do other types of transactions.
That is why they also require custom-built CRM software. Customer relationship management looks different in real estate than in any other industry. Technology that effectively supports real estate agents as they gain leads and move those leads through the sales funnel has to look different too.
That is why the best CRM for real estate teams is flexible, tailored, and feature-rich. Read on for a look at how the right real estate team CRM can help you manage your team, make more sales, and implement processes designed specifically for the buying and selling of property.
CRM systems for real estate teams offer total integration
Before CRM, your real estate team used an array of tools to connect with leads. From email to databases, from Zillow to DocuSign, these tools enable you to earn, track, assign, nurture, and advance leads through the sales funnel. But they were also difficult to keep track of.
Not anymore. The right real estate CRM integrates all of those tools into a single, powerful, intuitive interface. Import contacts from your databases. Score leads based on information gathered from your website, real estate sites, and contacts. Automatically process paperwork through the same platform.
With total integration, your CRM can automate, streamline, and simplify the lead nurturing process. Simply sign into your CRM dashboard, where follow-ups are scheduled (or initiated), leads are added, and scored, and all of your tools are accessible in one location.
CRM for real estate agents enables on-the-go productivity
Real estate agents rarely put in a full day in the office. Instead, they are constantly on the go, meeting with buyers and sellers, buying houses, overseeing inspections, and more. CRM systems for real estate teams need to keep up.
With mobile integrations, the best CRM for real estate teams make it simple to keep up with leads and contacts from anywhere. CRM software that includes a mobile app makes all of the software's features available anytime, anywhere, from your mobile device.
With the right program, you can make phone calls, send emails, update notes, track leads, follow up with contacts, and close sales from your car, restaurant, client home, or anywhere else your day takes you.
With GoCRM, we also have GPS capabilities built into our platform for simple tracking of your team's day, appointments, and client contacts. Seamless communication and lead management for real estate has never been easier.
The top real estate CRM for teams allows for ground-up customization
Not every CRM is right for real estate teams. With their unique needs, agents require specialized support and features to effectively move leads through the sales funnel and close deals.
That is why the best real estate CRM for teams is one that allows for ground-up customization. With extensive options available, real estate teams can define their needs and build in the functionality they require to improve their productivity and their sales.
Here are just a few of the ways in which real estate agents should be able to customize their CRM:
Task automation
Lead assignment
Workflow structure
Contact filters
Forms
Lifecycle stages
And more
The right CRM built for the specific applications your team needs becomes a powerful tool driving productivity, innovation, and results among every member of your real estate team.
CRM for real estate agents improves time management
When you manage a real estate team, your responsibility is to maximize their productivity with smart policies and streamlined processes that save time. The right CRM systems deliver productivity and save time by making it easier, and faster than ever before to generate, follow up with, and nurture leads.
Manual tasks can eat up hours that your agents could be spending finding the perfect home for a client or making a sale. Replace repetitive data entry and lead scoring with a CRM that pulls in information from hundreds of sources and organizes it in one easy location according to the custom fields you choose.
Enjoy automatic lead scoring and assignment so agents always focus on the highest-quality leads first. Save your agents the time it takes them to learn about a lead by scouring two databases, an email account, and their colleague's brains by giving them a CRM that can synthesize all that information and deliver it to one place for easy access.
The best CRMs for real estate agents do more than automate manual tasks and organize data. They also perform these time-saving tasks to get your agents focused on the most important parts of their jobs:
Integrate with your team's current workflow
Trigger campaigns based on a lead's score or activity
Automatically initiate drip campaigns
Automate first contact for certain leads
Schedule or initiate follow ups for leads after certain triggers occur (i.e. action taken on your website, certain amount of time since last contact, etc.).
With an effective CRM taking over time-consuming tasks and streamlining others, your real estate team will always be on top of their game. They can focus on advanced lead generation and nurturing so you and they can enjoy more sales and greater profits.
The top real estate CRM for teams is easy to use
Real estate agents are experts in real estate, not technology. If they have to fight with a sluggish or complicated customer relationship management software, they may choose not to use it all. A system they cannot use will also never save them the time they need to work more productively.
That is why the CRM you implement needs to be lean, agile, and intuitive. The best CRMs for real estate agents have all the features they need, with none of the extra bloat that can slow down the interface and increase the complexity of the platform. The only thing worse than navigating a complicated piece of software is navigating features you cannot even use.
Customization can help you to find a CRM that is as lean and lightweight as you need. Add the functionality you require and leave out the rest. Choose simplicity over bells and whistles, as long as your program delivers what your team needs.
In addition, your real estate CRM should boast an intuitive user interface where all relevant information is available at a single glance. GoCRM, for example, presents all relevant data about your leads and contacts within a single interface that you can easily understand and interact with.
Add comprehensive training to an easy to use CRM (GoCRM includes employee training), and you can keep streamlined processes and lead management in the hands of everyone on your team.
Real estate CRMs give you a 360-degree view of your leads
Real estate leads often take longer to convert into customers than do leads in other industries. Thanks to this longer life and the more extensive nurturing required to move prospects through the sales funnel, you need a CRM that can deliver a 360-degree view of your contacts.
For example, if a lead looks at a home on Zillow and then waits 60 days to reach out to your office, can your CRM see their previous interest and score them accurately? Can your CRM track a prospect's activity and contacts over multiple channels and over the course of weeks or months?
The right CRM for your real estate team will seamlessly track leads from the beginning of the sales funnel to the end, no matter how long the process takes. This capability reduces duplicate leads and ensures that your team always responds appropriately to every contact
In addition to tracking leads over time and across channels, the right CRM for real estate agents can accurately assess which channels drive not just the most activity but also the most profit for your business.
As a result, you can more effectively focus on the leads and the marketing channels that yield the most business. With long-term tracking of lead activity and robust reporting, a strong real estate CRM, like GoCRM, can enhance the accuracy, effectiveness, and success of your team's efforts.
Total integration. On-the-go productivity. Ground-up customization. Improved time management. Ease of use. Comprehensive lead tracking. The best CRM for real estate agents delivers all the tools you need to effectively manage leads and close sales with customized features that deliver results for the real estate industry.
When looking for a CRM that has all these features, you need to choose between real estate specific CRMs and more generalized CRMs that allow for extensive customization. When making your choice, consider a platform like GoCRM.
With extensive customizable features combined with a powerful platform and intuitive interface, you can use GoCRM to craft a platform that is ideal for real estate and ideal for your specific team. Integrate GoCRM with your existing workflows. Take advantage of its powerful reporting capabilities and numerous integrations. Enjoy a customer management tool that allows your real estate team to more accurately, effectively, and easily manage every lead that comes your way.