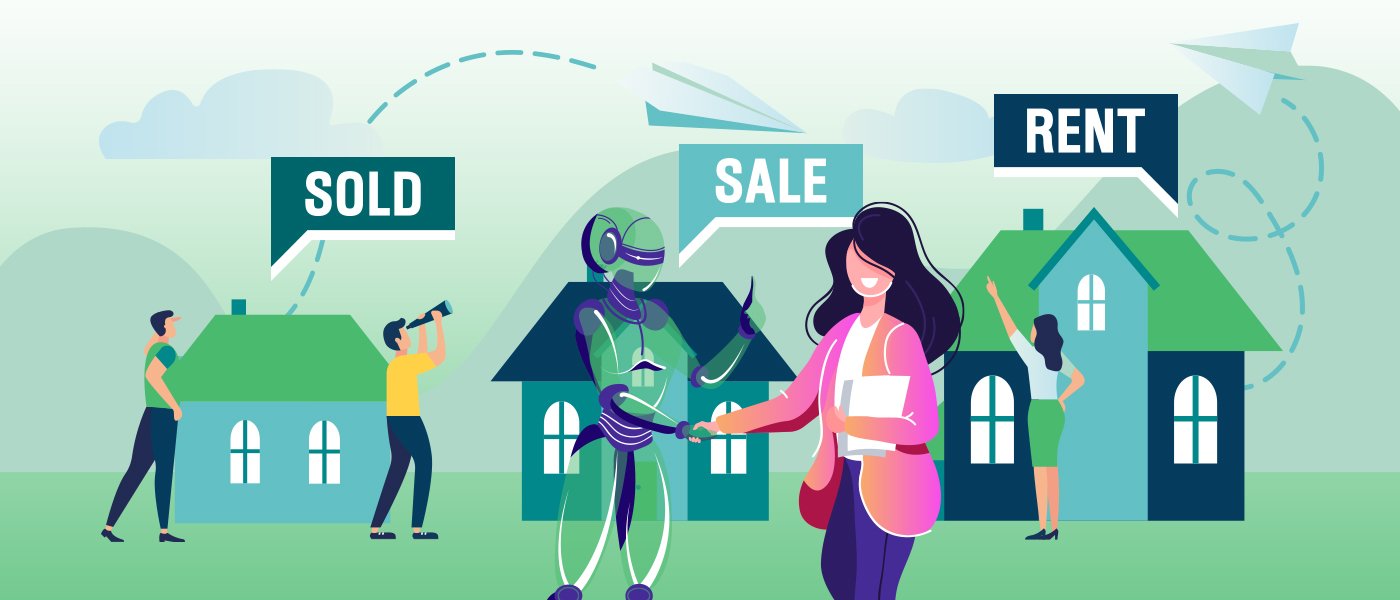 Managing the diverse needs of multiple leads on time is a critical but challenging aspect of successful real estate marketing.
You must nurture leads through an often time-intensive process while also understanding their needs and acting promptly to capture the perfect property before it is sold to someone else.
Marketing automation can help. The right automation through the right CRM can acquire, engage, and nurture leads without taking time away from your team's most important responsibilities.
Here is a look at seven ways that marketing automation can assist the real estate industry.
Call Tracking
Real estate requires personal interaction. People need to go beyond digital communications before they are comfortable making financially significant commitments, like purchasing a property.
That is why real estate agents enjoy higher conversion rates from phone calls than digital communication forms. Integrated call tracking through a customer relationship management platform like GoCRM is essential in accurately managing the phone calls' information.
GoCRM uses a cloud-based VOIP system to record and import information from phone calls and then store it in a central database for easy access. Besides, our mobile app allows your real estate agents to make and receive phone calls from any device.
Thanks to these call tracking abilities, real estate agents can perform critical tasks, such as the following, anytime and anywhere:
Nurture leads
Set up showings
Negotiate contracts
Answer questions
With the prompt, knowledgeable follow up possible through call tracking, GoCRM ensures that every lead receives timely attention from your real estate team.
Lead Engagement Workflows
Automated lead engagement workflows through GoCRM also provide the real estate industry with a way to nurture leads through every sales funnel stage effectively. Customize each workflow to your business and accomplish tasks such as the following:
Respond to website visitors based on the properties they viewed
Engage with listing inquiries who stopped responding
Follow up after listing inquiries, showings, and online form submissions
Schedule showings
Stay in touch with former clients (e.g., Send industry information, emails to check-in, inquiries about how the property worked out for them, etc.)
Let's look at an example of a simple, yet effective marketing automation campaign for a real estate website's lead capture form.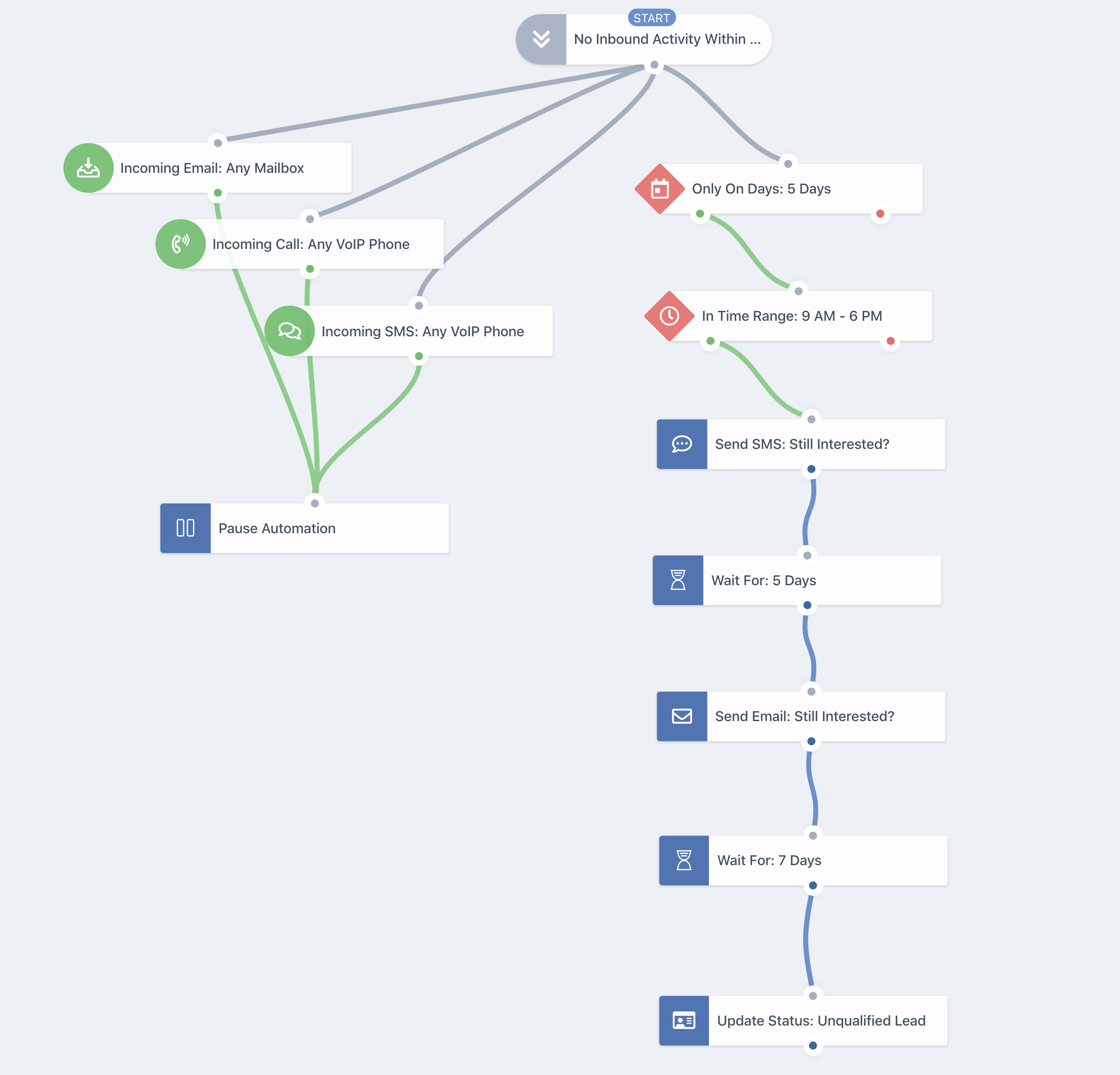 Update Status: Unqualified
Once you create the workflow, the system will implement it. GoCRM will send emails and SMS messages and schedule phone calls and meetings. These workflows allow you to complete more tasks with less time, maximizing productivity, and sales for your team.
Real Estate Lead Assignment
Make sure no lead or task falls through the cracks with automated lead and task assignment through GoCRM.
Choose to assign leads based on the property they viewed, the seniority of the team member (i.e., Greater value leads go to more senior team members), or other criteria, or choose to assign leads in a round-robin style. You can also view your entire team's workload in one location and distribute tasks and leads for maximum efficiency.
The system will then automatically send emails and texts from the agent, add tasks and phone calls to their calendar, notify the agent of each task, and send emails and text messages on behalf of the assigned agent.
When you combine automated workflows with automated task assignment through GoCRM, you create a streamlined system that engages, nurtures, and follows up appropriately with every single lead.
Email Marketing Campaigns
Email marketing is hugely profitable, earning an average of $42 of revenue for every $1 spent (PDF).
Capitalize on the effectiveness of emails through automation. Here are some of the types of automated real estate emails you can send through GoCRM:
Alert leads to new listings that match their preferred properties.
Communicate with your target audiences regarding favorable industry trends, services you offer, and other information that will generate action.
Re-engage cold leads with information about new listings in their preferred area.
Respond to form submissions and direct leads to more information about your real estate services.
Onboard new clients
Follow up with clients after they complete a purchase
Send out paperwork
Create the email templates and automated workflows you need and let the system send out the right emails at the correct times. The software will even include each lead's name in the emails for a truly personalized experience.
Send one email, or build a complex real estate drip campaign. Target new leads or loyal clients. You customize the emails and workflows to your needs and let GoCRM do the rest.
Personalized Marketing Communications
Emails are not the only thing that GoCRM can personalize for the real estate industry. Automation can also personalize all forms of communication between your real estate agent and your leads and clients.
For example, say the system sends out an alert about a new property in a client's preferred area. That email will come from the assigned agent's personal email account. When that agent calls the lead to follow up, that phone call will show up as coming from their personal number. Text messages also show up from the real estate agent's personal number.
Thanks to this personalization level, a lead reaches the assigned real estate agent as soon as they respond to the email, text, or phone call. With personal attention and the ability to immediately reach a real person, leads feel cared for, creating the trust necessary for them to close on a property deal.
Data Entry
A real estate team's ability to work efficiently depends upon access to complete and accurate information. Automation through your CRM can help ensure that all relevant data is promptly entered into a central database.
For example, GoCRM automatically records phone calls and imports that information into the database. Similarly, a lead's actions, demographics, and communications appear in a central database that your entire team can access.
Every time a form is submitted, a phone call is made, or an email or text message is sent, GoCRM imports that information into a central database. Additionally, GoCRM integrates with numerous platforms and imports all its relevant information into the same database.
See a lead's entire history with your business at a single glance. Understand where leads want to buy a house, what qualities they need in a property, which homes they have looked at, and more, in one easily accessed location.
With complete and accurate information at their fingertips, your real estate team can craft a customized, intelligent, and productive approach to every client and lead.
Analytics Tracking
Automation also allows your real estate team to analyze the performance of their sales and marketing approaches.
For example, GoCRM can assign a unique phone number to each of your marketing efforts, including billboards, brochures, and online ads. The system then automatically tracks how many leads come from each phone number so you can evaluate which approaches work best.
GoCRM can also use automation to track the origin of leads who complete actions such as fill out forms, schedule showings, sign up for alerts, contact your business, or even just browse listings on your website. Find out where each lead came from and whether or not each lead converted for detailed insights into your marketing efforts and sales success.
💡Takeaways
Harness the power of automation for your real estate business with GoCRM. Our software is designed to help you work smarter, not harder, with customizable automations that simplify routine tasks and help you track leads efficiently. Save time, sell more with automated real estate marketing and sales through GoCRM. Request your demo today!