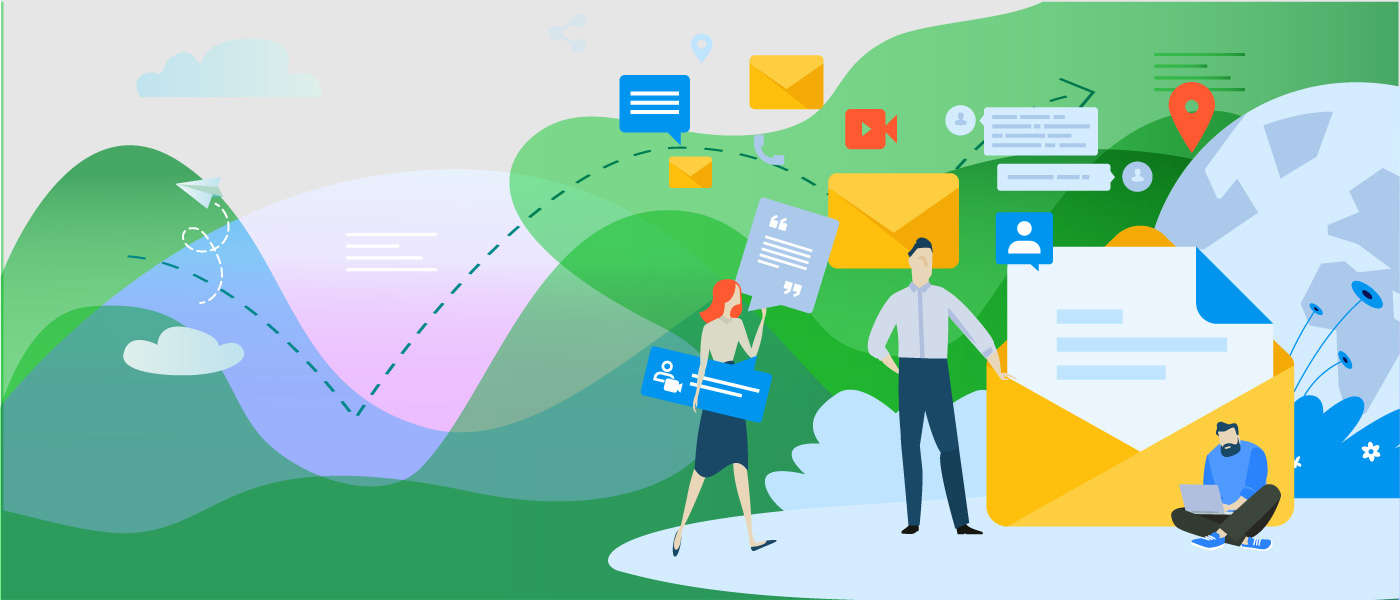 Like it or not, email isn't going anywhere any time soon. It remains a great marketing tool and an important channel for cost-effective communication, especially in the home-building industry. You, too, can drive lead conversion and increase efficiency in your business by making the most of email. And we have a blueprint right here.
Home builders and construction companies generally have a lot to gain from using email to connect with new clients and close deals. Consider that home and building services enjoy an email open rate of 34.15%, which is much higher than the 29.87% average across industries – according to recent statistics.
With an engaged and receptive email audience, it's only a matter of hitting the right notes in your messaging. That means following a strategy with content tailored for each stage in the sales journey, from lead-nurturing to post-sale follow-up.
We can help you do that. Below are seven time-saving email templates, covering key points in the sales process, that will help you get the benefit of email automations for home builders.
Email Templates for Home Builders
New lead first contact
Break the ice with newly acquired leads, people who have already expressed an interest in your business by opting in and providing their details.
Hi [prospect name], Are you looking for a home builder? Because that's us! I'm a salesman with [name of your construction company] and we build amazing homes around [geographic area].
We're proud of all our work, but here are some of our recent projects. Take a look to get an idea of what we can offer you: [link to gallery]
I look forward to hearing from you soon.
Kind regards, [your name] [your contact number]

Copy To Clipboard
Follow-up meeting
After meeting with a prospect, this follow-up message could help convert them.
Hello [prospect name], It was great to meet you and I feel it was a very productive meeting. Building a home doesn't have to be a stressful process – we'll take care of everything including engineering, procurement, and construction. Would you like to know more about our services? I'm happy to answer any questions, so feel free to drop me a line. Thanks,
[your name]

Copy To Clipboard
Lead going cold
If a lead hasn't responded after a few weeks, you can reach out to them in a helpful way. They may wish to know more about other areas.
Hi [prospect name], I hope you're well. I was just wondering if you've had any luck finding a home builder in [your geographic area]. If there's anything you'd like to know about the high-quality materials and modern designs we can offer, or how we can accommodate your plans, please let me know. It pays to do your homework before you make an important decision about your future home. We can help, so stay in touch. Kind regards,
[your name]

Copy To Clipboard
New customer early stage
A new customer is sure to be excited about deciding to commit to a home builder, and some reassurance that they've made the right choice will help to earn their faith.
Hi [client name], Committing to your new home is an exciting moment, and the start of a new project is also an exciting time for us. Rest assured, you're in good hands. We look forward to working closely with you to make your vision a reality. In our range of available high-quality materials and designs, you'll find a great deal of choice and flexibility. You can also count on our expertise and professionalism. We build homes that feel like home, and you'll be moving into yours in no time at all. If you have any questions or concerns along the way, I'll be happy to assist, so don't hesitate to contact me. Chat soon, [your name]
[your contact number]

Copy To Clipboard
Project completion
Once a project has concluded, thank the customer and wish them well in their new home, but also remind them to keep your business in mind for future recommendations.
Hi [client name], It's been an amazing journey together, and we're thrilled to see the completion of your new home. We hope that you and your family will be very happy there. If down the line you hear of someone looking to build a home in [your area], please remember us. Until next time, [your name]
[your contact number]

Copy To Clipboard
Request a testimonial
Some weeks after a customer has settled into their new home, check in with them and request a testimonial with a link to your preferred platform. Reviews are a powerful way to demonstrate credibility to other would-be customers.
Hi [client name], I'm just checking in to see how you're liking your new home – I hope it's everything you dreamed it would be, and that you're settling in comfortably. If it's no trouble, please would you write us a testimonial on [platform] – it would mean a great deal. Thank you! [your name]
[contact number]

Copy To Clipboard
One year follow-up
A year after a construction project's completion, get in touch with a client to see if they're still happy and mention the possibility of alterations, extensions or remodeling in the future.
Hi [client name], It's been a while, I hope you're well. And I hope that you're still comfortable and happy in the home you built with us. But things do change, and it's good to change with them, so if at some point you're thinking about extending or altering anything, or perhaps if you'd like to do some remodeling, I'd love to sit down and discuss it with you. Feel free to get in touch any time. [your name]
[contact number]


Copy To Clipboard
With the above email templates, your home builder marketing will be equipped to streamline a large portion of your lead nurturing and conversion communication and see clients through to the end of a project and beyond. Email is too effective to ignore, and you'll soon see the benefits of making proper use of it. We can help you do that in numerous ways, from guidance to strategy and execution, so get in touch with CODESM.